Published: 09:09 Thursday - August 11, 2016
Gong and Gong performing arts are unique features of ethnic minorities' culture in Kon Tum and the Central Highlands in Vietnam. Moreover, On November 25, 2005, Cultural space of Tay Nguyen Gong in the Central Highlands of Vietnam was officially recognized by UNESCO as the unphysical and undocumented cultural master piece of mankind.
Gongs are musical instruments made of alloy bronze, sometimes with gold, silver, or black bronze added to their composition. In the Kinh language, the word cong identifies convex gongs and the word chieng refers to the flat ones. Gongs vary in size from 20 to 120cm in diameter.
Gongs may be played one at a time or in groups of 2 to 20 units. The Muong, as well as other ethnic groups in the Truong Son-Tay Nguyen regions, use gongs not only to beat the rhythm but also to play polyphonic music. Ensembles of gongs usually include several sets that vary in number and function during the performance.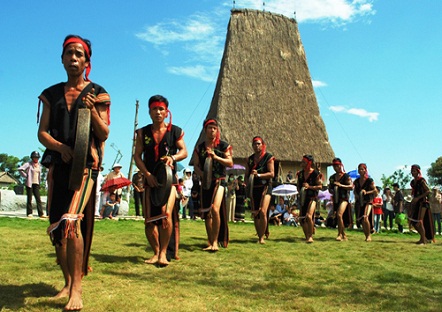 In some ethnic groups, gongs are only intended for men to play. However, the sac bua gongs of the Muong are played by women. In other ethnic groups, both men and women may play. In general, taboos regarding cong-chieng customs differ from ethnicity to ethnicity.
Gongs hold great significance and value for many ethnic groups in Tay Nguyen. The gongs play an important role in the lives of the inhabitants of Tay Nguyen; from birth until death, the gongs are present at all the important events, joyful as well as unfortunate, in their lives. Almost every family has at least one set of gongs.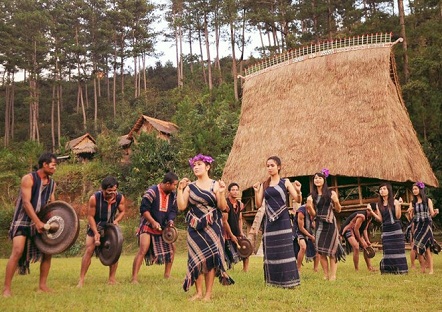 Regarding to origination, according to some researchers, the Gong is a "child" of lithophone. Before having Bronze culture, people found to stone instruments: stone Gong, then coming to the Bronze Age, people just invented bronze Gong.
From original period, the gong was used to welcome a new rice harvest; the present of belief is communication with super nature. All festivals year around, from festival of blowing ears for newborns to water worshipping, the festival of a new rice harvest, etc. need the sound of Gong like a kind of connection between people in a community.  
The cultural space of Tay Nguyen gong spreads over five provinces, including Kon Tum, Gia Lai, Dak Lak, Dak Nong and Lam Dong and the masters of gong culture are the ethnic groups, composed of  Ba Na, Xe Dang, M'nong, Ede and Gia Rai people.