Published: 09:11 Monday - August 08, 2016
Gau tao cha is an important festival of H'mong minority and become one of the most favorite festivals in the Northern mountainous areas of Vietnam. The main purposes of the festival are thank the gods, heaven and earth cover back, bless people, while expressing desire happiness and prosperity prayer new year good weather, lush vegetation, abundant crops, human health, showing the heart of the children to remember the source.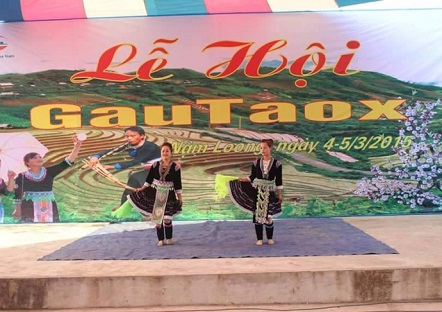 Has become standard practice,  Gau tao cha festival is held on January 15 Lunar, relatives of people of the nations gathered to commune of Nam Loong, Lai Chau town to have fun opportunity Buckets crap father.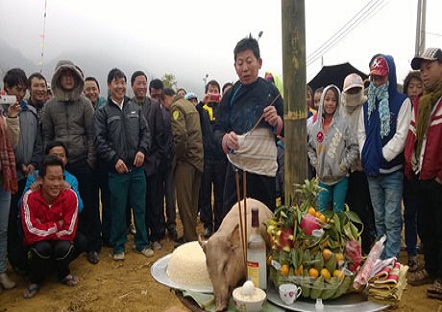 Not only that crap Dandruff father was a useful playground, an opportunity for relatives of people young and old to meet the council here, boys, girls with praise dance, dance umbrella, exchanges culture, arts, sports competitions, games your folk talent, their skills, then choose the best, most talented, who I love, who I love to catch on, pull on work mate.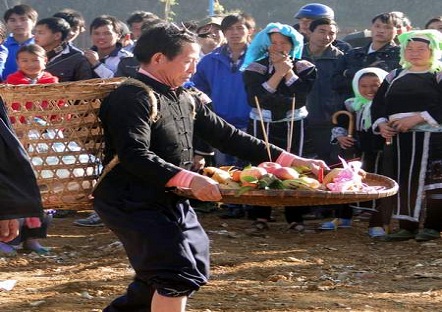 In the early morning of the festival's first day, people gather at the area where this expected festival takes place. After the opening worship of the shaman, young girls and boys, dressed in new and colourful traditional costumes, necklaces and bracelets of Mong ethnic minority begin singing their popular songs in praise of the village and their love songs. After that, hundreds of people go scattering to the fields, to the hills for fun activities: some groups blow bamboo plants, leaf-flutes while others play traditional children's games such as spinning, sticking, etc.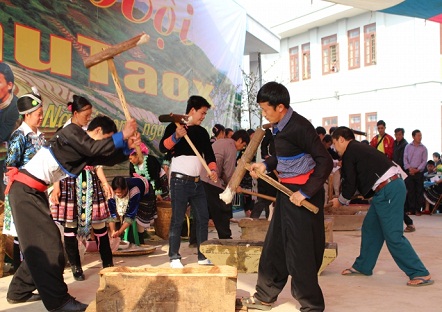 When the festival is over, on behalf of house-owner, the magician expresses gratitude to the Earth, Heaven and Gods before gets off the new-year tree, burns worship-paper and finally, sprays the alcohol round. A piece of red cloth is taken off and tied to the house-door, meaning to be protected by God. A pair of a boy and a girl or a newly-wed couple is asked to make a bamboo-mat from the tree – a symbolic action of wishing to have good children as well as prevent the evils.
Gau Tao has become a tourist attraction for travellers who love ethnic travel Lai Chau to not only enjoy the fresh atmosphere of this highland but also to discover the cultural beauty of Mong ethnic minority