Published: 16:02 Monday - February 15, 2016
Tet is always considered a wonderful time to travel and enjoy the beautiful landscapes around us. On Tet holiday, Vietnamese often take the chance to visit pagodas to pray for their family and relatives as well. Going to the pagoda becomes a traditional custom of Vietnamese on Tet holiday.
Tet is the best time to enjoy with our parents, grandparents, relatives and friends as well. We have some free days to gather with our family and do the meaningful things with our relatives. Besides it, going to the pagodas with family is a good thing to do on Tet. There are many beautiful and famous pagodas to visit on the occasion of Tet holiday, some of them are Huong Pagoda, Bai Dinh Pagoda, Yen Tu Pagoda, Tran Temple. These are the most famous and wonderful pagodas in Vietnam to visit on Tet. Coming here, visitors will take the chance to honor the offerings to their ancestors and pray for their family and relatives with a lot of health, luck and happiness. On these days of Tet holiday, the amount of tourists visiting these pagodas is so great and it is as high as so many times of normal days.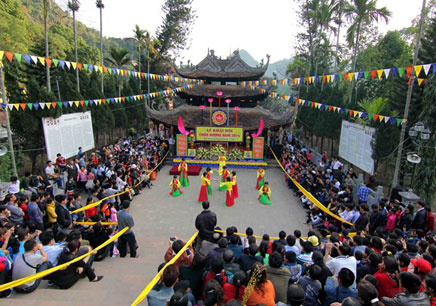 Visiting pagodas on Tet holiday, you will feel the warm and busy atmosphere of Vietnamese Tet. Furthermore, Vietnamese people also take part in some folk games on Tet holiday to get more fun and exchange. Taking part in the folk games, you will find the traditional culture of Vietnam and enjoy the happiness of new year. Some popular folk games can be listed such as: Swinging, Slip pole climb, Tend card singing, Wrestling, People Chinese chess. Tet is always looked forward by Vietnamese people and it is also a special occasion to enjoy the best time with relatives and family.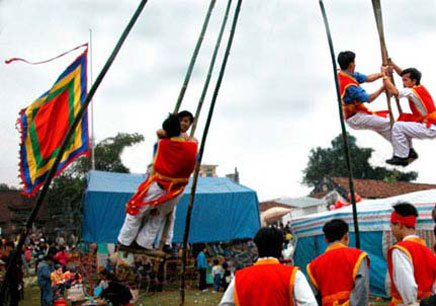 On Tet holiday, Vietnamese people also go to Vieng Market in Nam Dinh to buy something for luck and pray for a lucky year. Vieng market festival often takes place on the 8th day of first Lunar month. There are many people going to the market to buy something for luck and enjoy the busy atmosphere in the market. There are many kinds of goods sold on the market and it will be so lucky if someone can buy these goods by copper. It is really a good chance to pray for fortune and lucky things in New Year.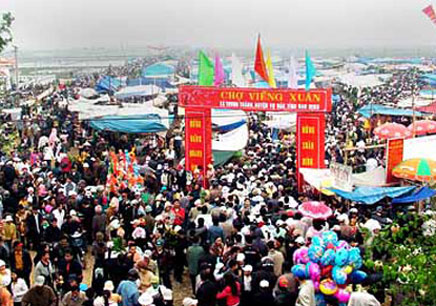 There are many interesting and exciting activities to do on Tet holiday and it depends on the way you enjoy and take advantage of it. It is really a very wonderful time to follow our passion and spend time with our relatives and friends. Let's take the advantage to do meaningful and wonderful things on Tet holidays in order to make your Tet holiday more fascinating and unforgettable.