Published: 10:34 Tuesday - October 25, 2016
Nui ba spring festival is one of the largest festival in the South of Vietnam and attracts many tourists in spring each year. Moreover, it is also one of the most famous festival in spring in Vietnam.
About 11km to the North West of Tay Ninh Township, Nui Ba complex is 24 sq km including three mountains Nui Heo – Nui Phung – Nui Ba Den. This is one of the landscapes in the famous complex of culture and history of Tay Ninh.
Ba Den Mountain is 986m high which is highest in South Vietnam. Looking from far, Ba Den area has a unique shape like a giant colonial hat on the white silk scarf with the landscape of legends in the expanding land time. The ecological land in the mountain is quite plentiful with many grass trees, wood trees and precious animals.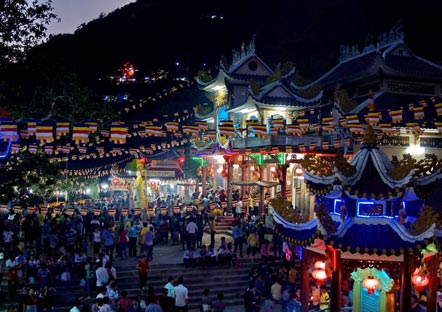 Famous historical area of Ba Den Mountain of Tay Ninh has known for the system of Dien Ba pagoda, Ha pagoda, Trung pagoda, etc on the grandiose mountain system. There are some magnificent pagodas are close to the legend of Ly Thi Thien Huong (Ba Den) and other religious legend which is said until now.
The system of Ba Den vestige is known for the place of many monks and the development of Buddhism. From the base of mountain, visitors have to climb to the hillside of Linh Son Thanh Mau. Coming to higher place, to the peak of Mieu Son Than, visitors would feel like being above the cloud and visitors could see the whole view of Dau Tieng lake – a beautiful and big water resource project of Vietnam. Besides, in the complex of Ba Den Mountain, there is an area of God spring or Ma Thien Lanh spring located on the West of Phung Mountain and Cham Lake, Ong Lon Tra Vong temple and Quan Ngua yard to be the religious complex which is full of spirit features.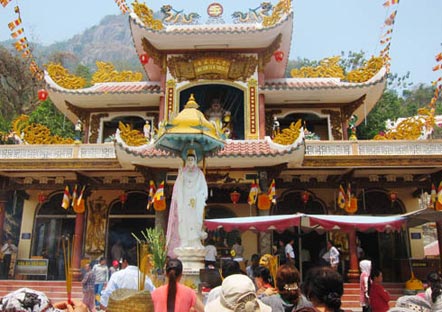 On the beginning of the spring, the complex of Ba Den Mountain complex attracts millions of visitors to pilgrim and visit. They join the spring festival of Ba Mountain. The festival last for month but the exact day if 18th night and 19th morning of first lunar month. Besides, there is a festival of Via in 6th lunar May. Before the main day, the head of Dien Ba carry the ceremony of Moc Duc (Washing God's statue) in the midnight. The beautiful young ladies in the sparkling outfit in the melodies of music wash the statues. This is not only cultural activities but also the place for the young to enjoy and working together.
Spring festival of Ba Den Mountain (Tay Ninh) is considered one of the typical features of South folklore culture and that is the place to be back to the root. This is also an ecotourism, traditional tourism for not only Tay Ninh but also the whole country.