Published: 11:52 Thursday - August 11, 2016
Lo Lo ethnic people in Ha Giang have many custom and different unique festivals. One of the most unique festivals is praying for rain festival which is held in 3rd Lunar month of the year.
The praying for rain festival is often held on the 15th, 17th, 19th of the 3rd lunar month. It is only organized when the weather is harsh or drought appears. Previously, rich people in villages used to pay for the cost of the festival but nowadays each villager contributes an item to the festival. Objects include a chicken, a dog or a kilogram of rice is taken to the house of a sorcerer or village chief. To have a successful praying for rain festival, the first procedure that cannot be avoided is to organize a ceremony to ask ancestral sorcerers for aid.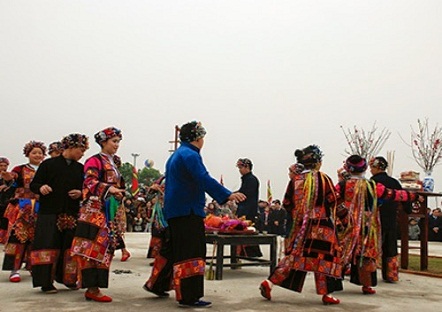 The procedure is quite easy, including a cup of water, incense and bamboo paper (a kind of papers that is used for sacrifices of the Lo Lo people). First of all, the sorcerer burns incense at the family ancestor's altar and then, the cup of water and the paper are placed at a house corner. After that, the sorcerer starts worshipping. He covers the water cup with the bamboo paper; if the water in the cup is not absorbed or poured out of the cup, "permission is granted" and then, the praying for rain festival will be successful. Finally, the sorcerer burns the bamboo paper and the procedure is completed.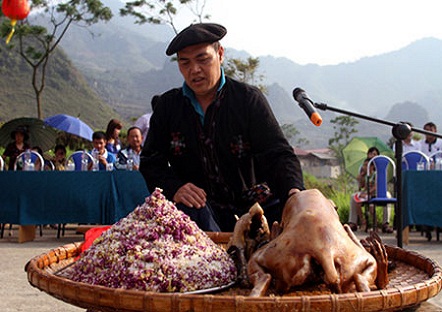 The Lo Lo ethnic people believe that after organizing the festival within three to nine days, it will rain. The festival is divided into two parts: the ritual and the festival. The ritual is made with the participation of villagers. Live objects such as dogs and chicken will be taken to the praying place and worshipped twice. After being used for worshipping for the first time, village's boys will slaughter them and use the meat for worshipping again.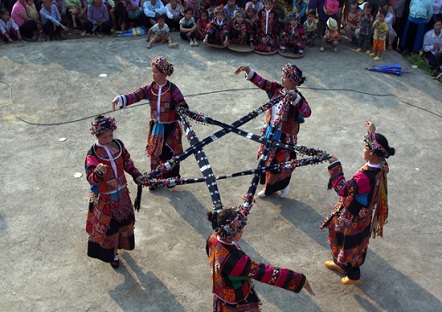 When the worship finishes, villagers drink the alcohol, eat the meat and dance. Beautiful Lo Lo girls dance in their traditional costumes weaved with colorful patterns.
The rain praying festival is a typical cultural activity bearing unique characteristics. The festival is an opportunity for villagers to pray for luck and show their faith in God