Published: 09:02 Wednesday - August 03, 2016
Nam Dinh is famous for Tran temple festival that is held on the 14th night and 15th day of the first lunar month in Thien Truong temple. Tran temple is a place to worship 14 kings of the Tran Dynasty and their mandarins.
The unique cultural activities, especially the splendid and radiant atmosphere of "Dong A", make Tran Temple Festival attractive to travellers everywhere.
The structure of this temple has three main buildings including: the Thien Truong Temple (Up Temple), Trung Hoa Temple (Center Temple), and Co Trach Temple (Down Temple).  Thien Truong Temple was established from the base of Trung Quang Palace in which the former King lived and worked.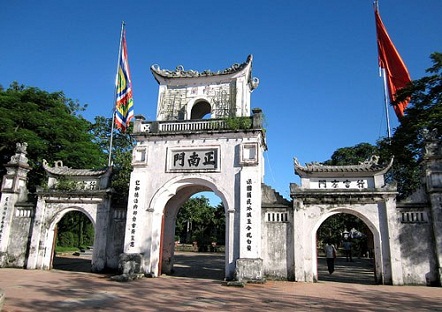 The first aisle of the temple has the altars and plaques of the Tran Dynasty's mandarins. The other two aisles in the back are devoted to worshipping the Tran Kings and their ancestors, and the altars of their queens are located at the sides of the interior.
Co Trach Temple is devoted to Tran Quoc Tuan, one of the most famous generals in the history of Vietnam, who had three epic victories for the Tran Dynasty against Mongol invaders. His family and most reliable assistant are memorialized, along with many other mandarins such as Truong Han Sieu and Pham Thien Nhan. Trung Hoa Temple is a new building built in 2000 by the local authorities. This temple is used to worship all fourteen Kings of the Tran Dynasty along with their most respected mandarins.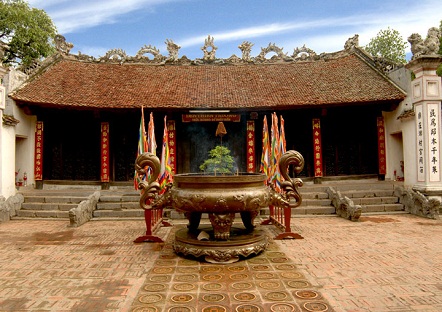 Tran Temple Festival annually lasts from the 15th-20th of lunar August. In the odd years, the festival is launched more magnificently than in even years. Nevertheless, visitors all over the country do not wait for the very happening of the festival to join but eagerly go on pilgrimage far prior to the day.
Tran Temple Festival is opened at the Thien Truong Temple in Loc Vuong ward in the northern province of Nam Dinh. The seal opening ceremony, the main ritual of the festival, will take place on the 14th night of the first lunar month. The incense-offering rite involves in 14 virgins carrying 14 trays of flowers into the temple and placing them on thrones in the musical vibration. This act is the image of the former feudal courts.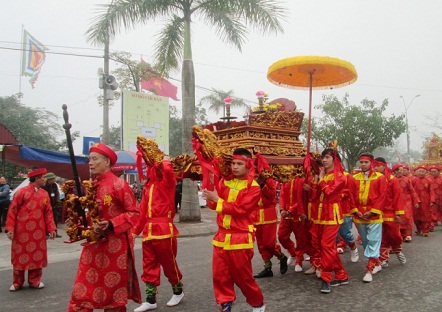 Each year, people flock to the ceremony to pray for good luck and happiness. The festival will be the water procession and fish worshipping rituals on the first day of the event, which honor fishing during the times of the Tran dynasty.