Published: 11:39 Monday - January 25, 2016
Vietnam cuisine is very plentiful and various. Each region has the special and featuring food and dishes. Especially, on special festivals, the country also has unique and special dishes for that occasion. Tet holiday is the most important and greatest festival in Vietnam and on this occasion, there are many traditional dishes displayed on meals these special days.
On Tet holiday, there are many delicious and special dishes to enjoy on the special occasion. It is the traditional dishes of Vietnamese on Tet holiday and it appears in every Vietnamese family on this special occasion.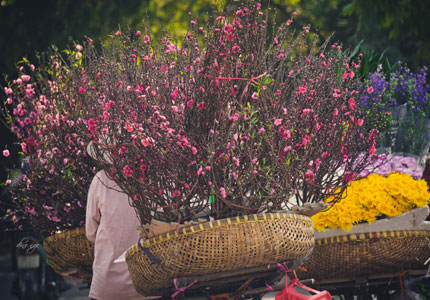 First of all, Chung Cake or Square Cake is the most popular dish on Tet holiday. The cake is made with glutinous rice, mung beans, pork and other ingredients. Then it is wrapped in green leaves (banana leaves or "dong" leaves) and it is tied with a bamboo string to make square shape. Square Cake symbolizes the Earth and it is made from natural ingredients symbolizing the agriculture of Vietnam. On Tet holiday, Chung cake is a can not-miss dish that appears in the meals of all Vietnamese families and it is also the offerings to ancestors on the days of Tet.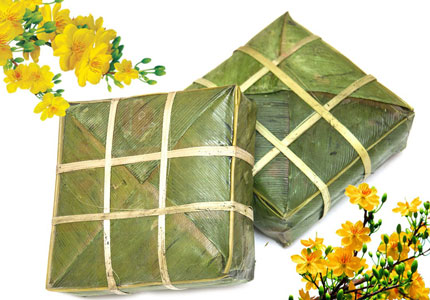 Secondly, Boiled Chicken is also the popular food on Tet holiday. It seems to be the simple dish but always appears in the meals as well as to carry out the worship to ancestors. After the chicken is boiled, it will be chopped into small pieces, then displayed on the plate. The dish is often used along with sliced lemon leaves and salt-and-pepper-sauce. It is really a delicious dish on Vietnamese Tet holiday.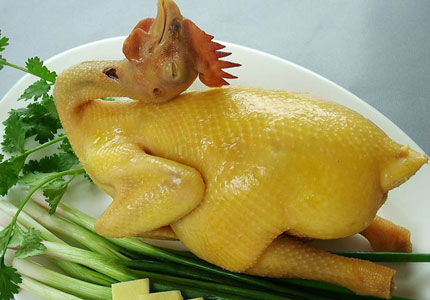 Sticky Rice is the third popular dish on Vietnamese Tet holiday. On Tet holiday, Vietnamese often cook sticky rice with "gac" fruits to make the red color - the color of luck and happiness. It is to make Tet more meaningful and colorful. Along with Chung cake and boiled chicken, sticky rice is one of the must-taste dish on Tet holiday.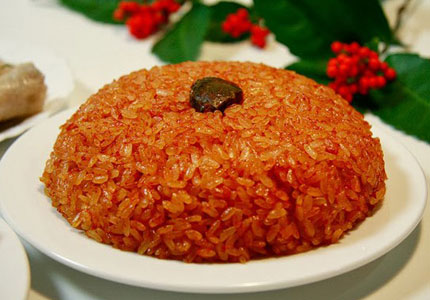 In addition, Vietnamese pickled onions is another dish on Tet holiday and it is also the special dish that no country in the world can make the dish as special and delicious as in Vietnam. The dish is often used to eat along with other dishes in the meals to make the balance between the dishes. Furthermore, the dish also helps people prevent from the sick as there are so much meat and other fatty foods used on Tet holiday.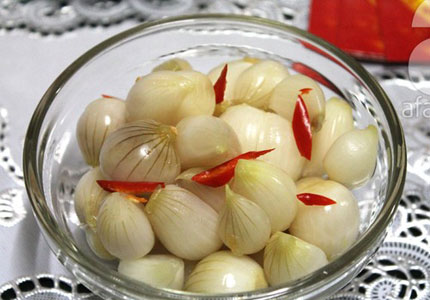 Last but not least, Vietnamese sausage, spring roll and candied fruits are which often have in the meals of Vietnamese Tet. Vietnamese sausage is often made with lean meat and it is eaten along with sticky rice. Spring roll is a popular dish of Vietnamese and it also a cannot-miss dish on Tet holiday. The dish is made with a lot of ingredients including pork, fragrant mushrooms, ear mushrooms, dried onions, eggs, onion leaves which are mixed together and rolled in special rice paper, then it is fried in full of vegetable oil. Candied fruits or Tet jam is also a favourite and special food only made on Tet holiday. These are foods that can not omit on Tet holiday and make the tradition of Vietnamese Tet holiday.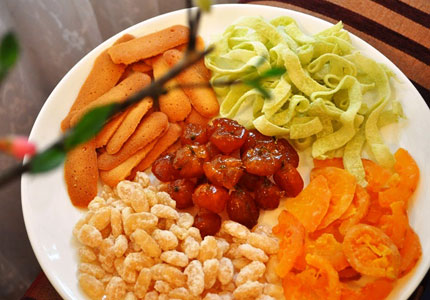 Tet is the greatest and most important festival in Vietnam and it is also time to remind Vietnamese remember the culture and custom of the country as well as let foreigners know more about the tradition and specialities of Vietnam.