Published: 08:37 Monday - April 16, 2012
The new rice celebration festival, also known as new rice Tet or Tet Ha Nguyen, is the biggest traditional festival of Vietnamese upland people. For people in ethnic groups, the festival is as important as Lunar New Year Tet to Kinh people.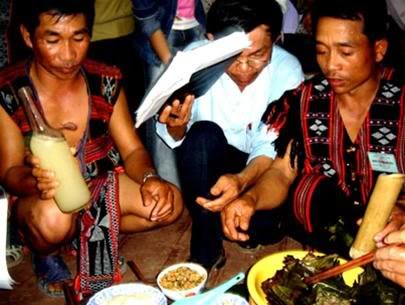 New rice celebration festival of Paco people
The worshipping ceremony is took place annually, aiming to celebrate productive crops and to thank gods for helping villagers get those. Depending on each ethnic group, organizations, the festival will be held differently but commonly, there are offerings giving ritual, new rice eating ritual…  
About the groups following Mon – Khmer language system (South Asia), the chief of village hosts to hold the new rice festival for the whole community. The festival usually happens when the very first rice packages are cut, about November or earlier December. It can last two or three days depending on estimated productive level of gathering crops. The festival location is Rong house, or the house of the chief.   
The live offerings in the festival can be pig, cow and especially buffalo, for the Mon – Khmer language system groups if they get productive crops (at least a hundred packages of rice gathered). It is one of big communal festivals of every ethnic group in a year because comfort is seen clearly. In this festival, people usually invite their neighbor villages, cousins, or married sons or daughters living in other villages to come to join, communicate and create close relationships.
The M'nong people organize new rice festival in the earlier August when the rice starts to be ripe. Following the custom, they choose dinner time to hold festival. They use fresh leaves of banana tree to line the basket, put steamed rice and chicken into it and take a bowl of rice which has a beeswax light pitching onto to worship. All productive devices of the family are put on a basket; the meaning of this action is to welcome to return those devices before people can eat new rice. After worshipping, the host presents the meal and invites neighbors to have. Only one member of each neighbor family come to join the meal, there are gifts for others.  
After the meal, the host invites neighbors to drink wine. Before drinking, the host takes some wine mixed with chicken blood, spreads this mixture on rice storage, altar, rocky cooker to return gods for supporting the family during the year.
Translated by S.F