Published: 10:16 Wednesday - March 14, 2012
The connection between Thua Thien Hue province and its local areas to organize a national tourism year expresses in enhancing advertisements on electronic news, exhibitions, fairs....and festivals, including Festival Hue 2012.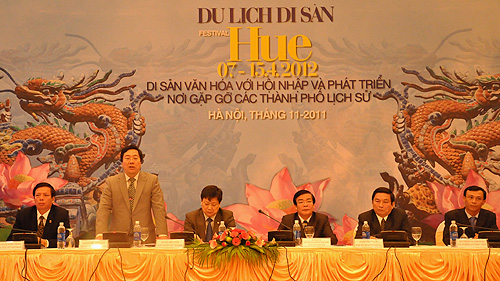 Festival Hue 2012 will take place from April 7 to April 15 with the theme: "Cultural Heritage with Integration and Development", "Gathering world heritages and historical cities" from the continents. In the Festival this year, France is still chosen as the major partner while some other nations having specific troupes are also invited to participate. In addition to the foreign troupes, several Central, Ha Noi capital, HCM city and other typical troupes will be invited. The organization scope of Festival Hue 2012 will focus mostly on Hue city and some areas in districts and townships while continuing to exploit the beauty of Dai Noi and Huong river. At the same time, some programs will be held in Con Da Vien, founding service centers for tourists in Gia Hoi ancient street, Trinh Cong Son street (along Huong river), Nguyen Dinh Chieu walking street…Besides the Hue cultural art programs already organized in Hue Festival for previous years, some others are also selected to take place such as Royal Palace Night, Ao Dai festival…to improve the quality of the organization.
Festival Hue 2012 tends to increase the community focused festivals to attract more residents and tourists such as Countryside Market on Festival Days in Cau Ngoi, and a new festival associated with the event 325 years after Nguyen Phuc Thai Lord selected Phu Xuan as the capital city of the South.