Published: 23:07 Thursday - January 03, 2013
Most people cannot stand the thought of their partners even talking to their exes, let alone socializing with them. But things are different in a small community of Vietnam. A yearly 'love market' of sorts is held in the hillside village of Khau Vai, 500km north of Hanoi, near the border with China
It takes place each year, on the 26th and the 27th of the third month of the lunar calendar. During these two days, hundreds of ex-lovers from various hill tribes like Nung, Tay, San Chi, Lo Lo, Dzao, Giay and Hmong are reunited. They trek in from various mountainous districts nearby to be able to spend two days with the ones they could not spend their lives with.
This concept might sound extremely unusual to us, and there might be every possibility of a cat-fight breaking out if this unique love festival was held anywhere else in the world. But the people of Khau Vai have a strong reason for the celebrating their love market. It has been a part of their tradition for centuries, originating from a local legend. The story is rather sad – an ethnic Giay girl from Ha Giang had fallen for a Nung boy from Cao Bang, but she is said to have been so beautiful that her tribe did not want her to marry a man from another community. What followed was a bloody war between the two tribes.

As the lovers witnessed the tragedy that surrounded their lives, they decided to part ways in the greater interest of peace. But their love did not die there. A secret pact was made between the lovers to meet each other once a year in Khau Vai– on the 27th day of the third Lunar month. The tradition is still being carried on today. On the designated days of the festival, local artists decked up in colorful clothes reenact this tale of forbidden love.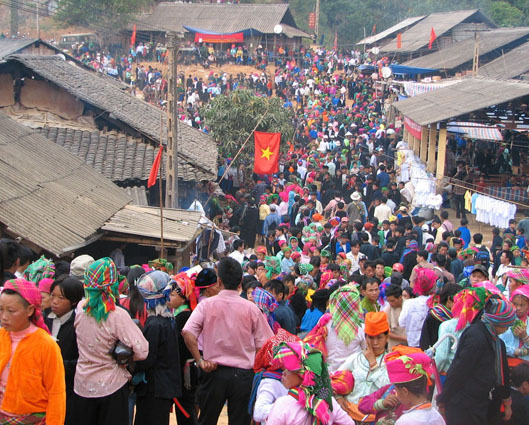 Some might dismiss the lovers' rendezvous that happen in Khau Vai as short flings, but in reality things are very different. The villagers view it as a time to go down memory lane, cherishing happier moments of their past. Lau Minh Pao, for instance, gets to meet his old flame and talk to her once a year. "In the past, we were lovers, but we couldn't get married because we were far apart," says Pao. "Now we pour our hearts out about the time when we were in love. We meet together to re-tell the tale of how it was when we were in love back then." Pao's wife has no problems with this, as she is off meeting her ex-lover at the very same time. This is a typical scenario for most people of these hills.

Over time, however, the tradition has taken on a more modern feel. The young plan dates via text messages and take pictures on their mobiles. The village itself is more accessible because of new roads. 23-year-old Hua Thi Nghi, an ethnic Giay, says "The young generation now go out together and find each other, and it's more modern, freer and clearer. Back in the old days, our grandparents had to pursue love in secret, not like today."


The Khau Vai love market is now so popular that it has become a tourist attraction for domestic and foreign visitors. Some of the other activities at the festival are a trade-tourism fair and a performance on the ritual of rain-worship of the ethnic Lo Lo people. There is also a ceremony to receive the certificate recognizing the festival as an 'Intangible Cultural Heritage.' Folk games such as shuttlecock, Ferris wheel, see-saw and cock-fighting are a part of the love market as well. Local cuisine and the beautiful highland girls in their traditional costumes are an added attraction. Nowhere else in the world has an entire festival been created around the simple act of meeting one's ex-lover, with no awkwardness whatsoever.
Reuster