Published: 16:42 Friday - September 20, 2013
Every year in the 30th's afternoon of the Tet traditional holiday, the Thai white people who live on the moutain stream of Quynh Nhai, Phu Yen, Ngoc Chien ( Son La), Muong Lay (Dien Bien), Phong Tho, Muong Mo, Muong Te (Lai Chau), Nghia Lo (Yen Bai) organize the shampoo festival.
The Thai people live in many locations in Vietnam territory but most-densely inhabit in the West North provinces; about more than 1 million people live in Son La and Lai Chau with groups of the Thai black ( Tay Dam), the Thai white ( Tay Don or Tay Khao) and the Thai red
For Thai women, besides "tang cau" – (high chignon on the top head), their arts of shampoo and care for hair are also considered as a new art with many special features. The Thai white in Quynh Nhai, Son La also has a festival of shampoo in the 30th's afternoon of Tet holiday. All village patriarchs, leaders in villages, young and elderly people shout for river terminals to hold the shampoo festival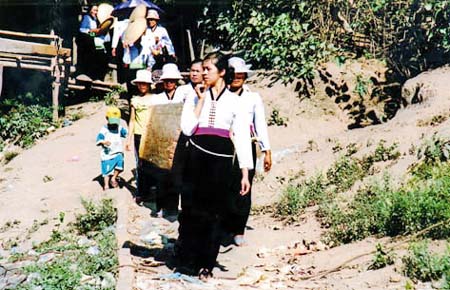 Drum urges people to come to the river terminals to take a shampoo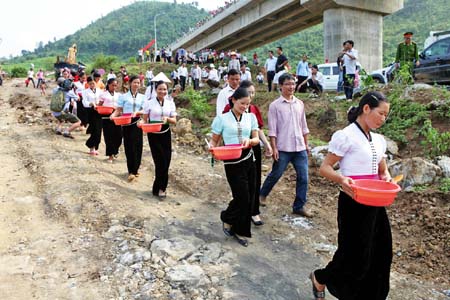 The mixture for the shampoo is the "bo ket" mixed with the hog-wash, forest flowers to nourish the glossy hair 
According to Thai people 'concepts,  the shampoo festival is an important festival to begin festivals in a year. In a new-year period, everyone in the villages must have a shampoo to washout difficulties, illness, and unfortunate things of the old year, see great disasters and tiredness off along the water currents (in lakes, in springs) forever as well as praise people a year of health, great and advantageous occasions and prosperous merchant.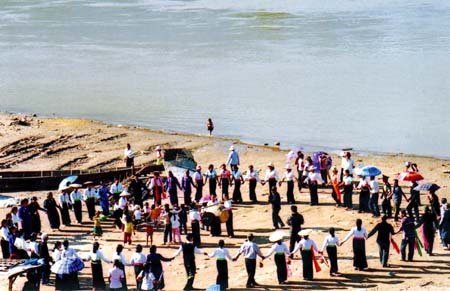 "Mua xoe" dance in the shampoo festival of the Thai white people
After taking a shampoo, all people take part in activities like: "ném còn", "tó má lẹ", "múa xòe" as well as other traditional games. Every people come home from river terminals to worship ancestors. The men who is the core in a new family will be let to come to ancestors 'altars called "nả hón" to clean, change incense burners, arrange everything on the incense burners and worship ancestor as well as welcome the new year at their families