Published: 11:20 Saturday - January 23, 2016
Tet is really a very important and meaningful occasion of Vietnamese. It is the time for all of the Vietnamese to gather with family and friends. On Tet holiday, the country becomes more beautiful and colorful, the streets are so crowded and busy and people are so excited and happy.
On the special occasion, there are many traditional activities taken place to greet Lunar New Year such as: making square cakes, Tet jam, decorating the house with peach blossom, apricot blossom, kumquat tree, etc. That's all of the activities to greet Tet holiday. In addition, during the Tet holiday, there are many special  and traditional activities carried out on the first days of the New Year.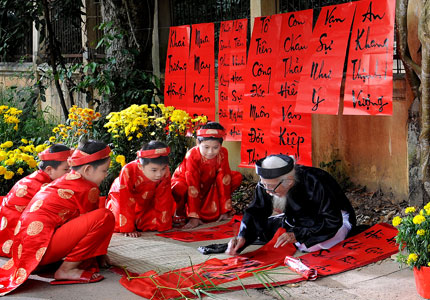 First of all, the most significant event which is looked forward by all of the Vietnamese that is to watch firework on the New Year's Eve. It is time to remark the beginning of New Year and also, the movement from the old year to new year. On the New Year's Eve, the firework is often displayed in the big cities of country such as: Hanoi Capital, Ho Chi Minh City, Danang. The firework in different colors and shapes is displayed on the sky greeting a New Year with a lot of heath, prosperity, wealth, luck and happiness. Everyone will gather with their family to wish for a lucky and happy new year.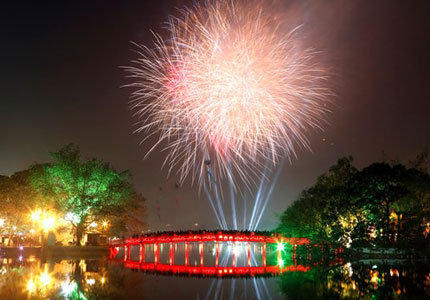 After watching firework, the next activity to greet New Year is to go to pagodas. It is the custom of Vietnamese that on the New Year's Eve or the fist day of New Year, Vietnamese people often go to pagoda to wish best wishes for their family and relatives. Besides it, it also becomes a tradition of Vietnamese to honor the ancestors and implement the worship to the the ancestors.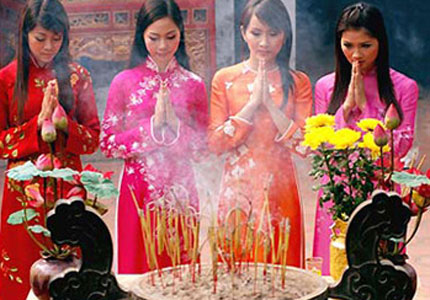 On the first day of New Year, Vietnamese often go to visit their parents and relatives to give them best wishes on New Year. While that, they will give lucky money to their parents, children and elders with the aim at giving lucky money to wish them a lucky and healthy year. Besides it, everyone also delivers to each other meaningful wishes such as: Money influx is as strong as Da's river, expenditure is as little as dripping coffee, I wish you a healthy new year, I wish you a wealthy new year, New year, new triumphs, All wishes come true, etc. Everyone is in the smooth and happy feelings.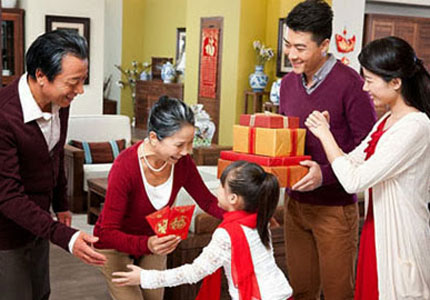 The third activities of New Year that is to hold family parties. Everyone will gather together around the meal with full of delicious and tasty dishes. On the meal, there are some common dishes that we will find in all of the Vietnamese families including: square cake, Vietnamese sausage, sticky rice and pickled chicken. These are traditional foods of Vietnamese Tet holiday. Everyone often give to each other small cups of wine representing the best wishes for the new year. When you go to visit any family on the days of New Year, you are going to be required to enjoy the meal with their family. It shows the hospitality and enthusiasm of the host.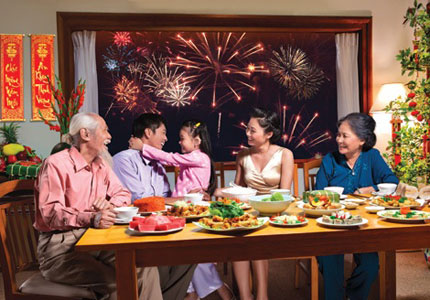 Last but not least, taking part in folk games is one of the interesting activities during the Tet holiday. Some traditional games such as: Swinging (Danh Du), Slip Pole Climb (Leo Cot Mo), Tend Card Singing (Hat Bai Choi), Wrestling (Dau vat), People Chinese Chess (Co Nguoi), etc. The games are held to create the condition for everyone living in a village or area to take part in and exchange with each other. Also, it is to make everyone remember to folk games of the country and let children know more about the tradition of the nation.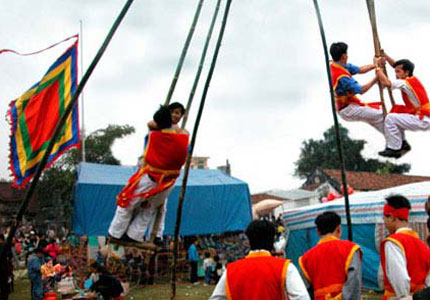 Tet is really an important and significant festival of Vietnamese during the year. Getting to know more about traditional activities on Tet holiday will make you feel the meaning of Tet deeper and more special. All of them contribute to make Vietnamese Tet distinct from Tet in other nations.