Published: 08:48 Monday - August 01, 2016
Khe Kem waterfall is a highlight in Pu Mat national park with the natural beauty of the waterfall and the diversified floral species. Especially in summer, the water falls is an ideal place for tourists because of cool and fresh air.
Khe Kem Waterfall 25km from Con Cuong townlet, the nature endows a wonderful landscape to Pu Mat National Park. Kem Waterfall. Water cascades down from the height of 500m and slope of 800 to three terraces, creating white spume. 
In the distance, Kem waterfall can be seen like a ribbon of white silk on the green back-ground of above and along the waterfall is a carpet of wild plants and hundreds of colorful flower garden.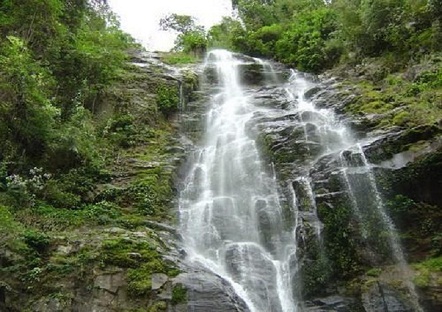 From the foot of the waterfall look up, you will feel endless stream flow in the white foam strip, is like a white silk long let . Draw in white magic that is clear streams, cool and popular singer of all species of birds. The top and sides are a whole cascade of vegetation with hundreds of flowers blooming year round. Each season has a flower to give visitors the feeling lost in the great gardens of thousands. At the foot of the waterfall long canyons with flat stones to throw at the tables as large as accommodation for tourists leg. At the foot of the waterfall, there is a small lake of shallow create a different landscape in wonderful natural. The average temperature at this place in summer is around 20oC .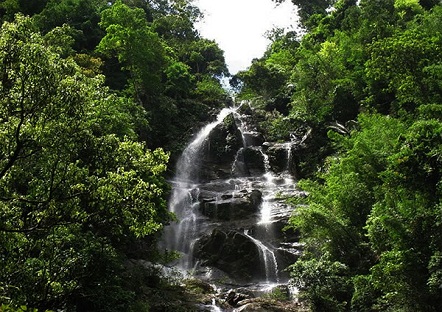 Coming to this waterfall, visitors can enjoy themselves with fresh air and pure environment of the nature, tasting rice liquor and sticky rice cooked in bamboo segments or watching lam dance of the Thai ethnic minority. Visitors can go along a small path to the top of the waterfall, where they can enjoy the picturesque mountainous landscape.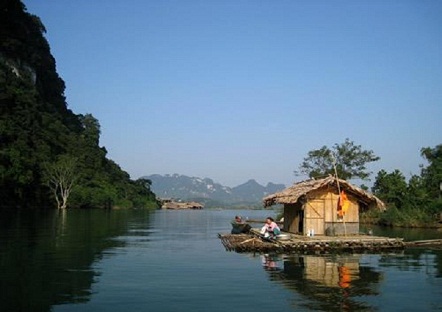 From this place, visitors can go up to Khe Bu Valley or climb up Pu Loong Mount a high peak in Pu Mat National Park(the round-trip takes 6-8 hours). At present, there is an asphlted road from Con Cuong Townlet to Khe Kem waterfall. Several guesthouses and tourist serveces are founded to serve visitors. Khe Kem warerfall is a tourist attraction to both domestic and foreign visitors Pu Mat National Park