Published: 08:31 Friday - July 29, 2016
Floating market is one of the most famous features in Mekong Delta and Soc Trang is also has a well-known floating market. Nga Nam floating market is the intersection of five rivers: ca Mau, Vinh Quoi, Long My, Thanh Tri, Phung Hiep
Nga Nam lands were officially reclaimed in the early nineteenth century in the reclamation policy Mekong Delta of the Nguyen Dynasty. By the late nineteenth century, the district of Nga Nam was a forest land full of mangrove and reeds, sparsely populated. French colonists regarded this land as the exploring land so they dug many large strategic canals, in order to exploit new lands. From that on, the landmark Nga Nam was formed.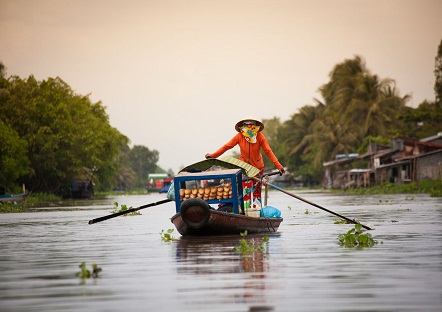 Nga Nam floating market is the meeting place for trading boats and traders. Early morning or at twilight the market sparkles in the glistening rays of oil lamps and mantles as stars twinkle in the sky and shimmer on the water.
On holidays, especially Tet holidays, Nga Nam floating market are radiant with the bright colors of apricot flowers, daisies, peach flowers and other typical flowers of the Mekong Delta, as well as the dark green of watermelon. Everything is sold from wooden boats.
As with other floating markets, products hang in front of the bow of the ship so that buyers can easily see and buy. The only one product not hanging, but always available, is petrol.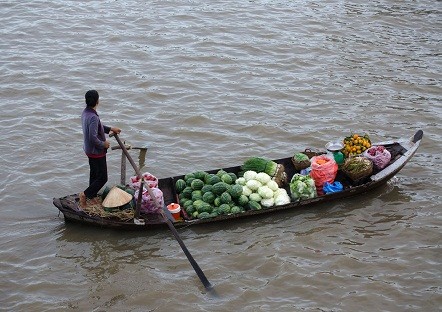 As well as fresh agricultural products and seafood, Nga Nam also is a stop for rice traders. Tourists heading to the mangrove forests in Soc Trang often stop by Nga Nam to buy food stuffs before going on their boating adventure on the endless alluvium river to forests. 
Nga Nam also lures tourists with its culinary culture and traditional fare. Tourists on boat trips around Nga Nam floating market can sense the typical flavors of the Mekong Delta from dishes made of bun (rice noodles) featuring the spices of Southern Khmer people and hu tieu (kind of noodle) cuisine of the Tieu Chau.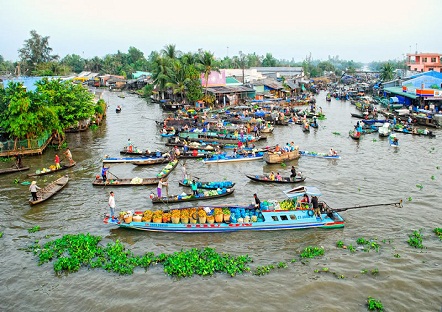 The best time to visit Nga Nam floating market is early in the morning, when the sun is crawling up east and many locals are already there, ready for trading – boats after boats. You can find just almost anything – from rice, meat, fresh fruits and other staple to TV and electronic goods. Nga Nam is undoubtedly one of the busiest floating markets in the South of Vietnam.