Published: 08:59 Tuesday - July 26, 2016
Thai Binh's tourism is attached with three famous beaches including Dong Chau, Con Vanh, Con Thu. Con Vanh has a long beach about 6km with a wild beauty. Besides, There is a green mangrove forest and abundant seafood that make Con Vanh becomes an ideal attraction in Thai Binh.
Con Vanh is situated in Tien Hai district, Thai Binh province, 140 km away from Hanoi.
What makes Con Vanh special is long stretch of soft sands. The swimming depth water is so low that you could go rather far off shore to swim. However, the waves are quite strong that may cover your body. The green pine rows will be perfect natural background to produce amazing shots.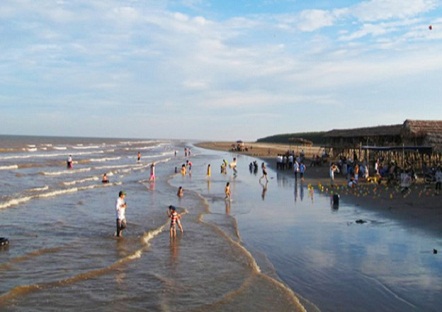 The interest of Con Vanh travel is the feeling of surfing, contemplating sea at night, immersing in nature and enjoying cool strong wind blowing from the sea. Moreover, you and your friends could organize games for group such as fishing, surfing, volley ball or having BBQ party at the beach.
Con Vanh is pretty pristine and currently not connected to the national grid. Local people must use generators to produce electricity from late afternoon to 10 o'clock in the evening. Yet, you do not have to worry about it because it is very cool in the evening.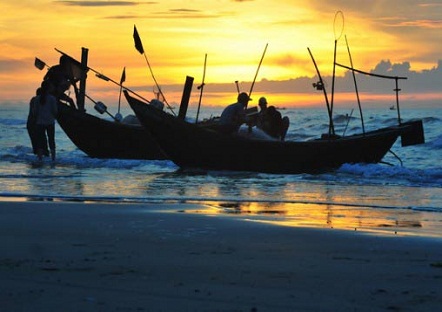 Lying in the Red River Delta Biosphere Reserve, Con Van is endowed with abundant unspoiled ecosystem of mangrove forest. You will feel like getting lost in the world of rare birds, sea storks and primitive aegiceras, bruguiera gymnorrhiza forest. Con Vanh's specialties are seafood of shrimps, fish, raw squids.
Con Vanh attracts tourists all the year. However, if you wish to immerse in daily life of the locals, you should travel to Con Vanh on festivals to partake in folk games such as: stilt walking, horn performance, beach volley ball, camping… In addition, you can visit Ba Lat lighthouse, where allows you to have a panoramic view of Con Vanh island.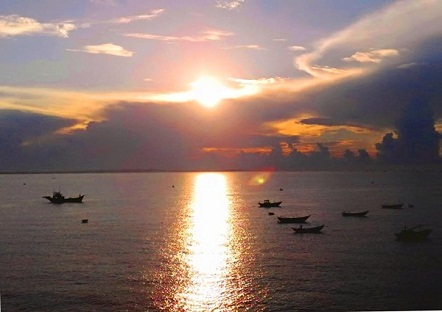 Con Vanh travel is suitable for weekend holiday. Still, if having more time, you should take a tour of neighboring places such as Con Den beach in Thai Thuy district, which is referred to as the most beautiful islet in the North; Dong Chau marine eco-tourism area (7 km from Con Vanh) and other popular destinations including Keo pagoda, Mau Doi temple, Tien La.