Published: 11:42 Wednesday - July 13, 2016
Hung Yen is famous with many pagodas, temples and festivals with rich culture of Red River Delta. And Nguyen Phi Y Lan Temple is well-known temple with unique architect and many ancient relics of the Ly dynasty.
The temple is located in Duong Xa commune, Gia Lam district, Hanoi, is one of the temples worshipping the imperial concubine Y Lan. She is one of the prominent women in the history of Vietnam who was 2 times regency and has many contributions to the country. Built in the late 11th century in the royal architectural style of Ly reign, this temple not only is the largest temple worshipping the imperial concubine Y Lan but also is ranked the oldest temple in Vietnam.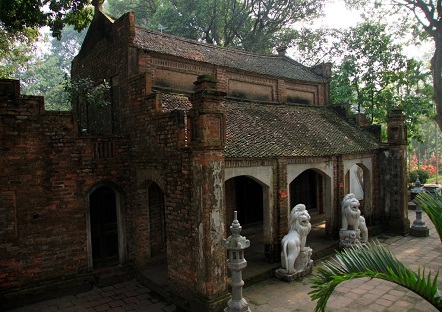 From the centre of Hanoi, crossing Chuong Duong Bridge for about 18km, visitors will catch the temple of Nguyen Phi Y. This vestige is also called Ba Tam pagoda or Ba Tam temple. All the relics are included pagoda, temple, and farm in the area of yard, house and trees of nearly 3ha.
The entrance gate is curled with many patterns of dragon and phoenix, cloud and wind, etc – the symbol of ancient architecture.
The temple has two gates with the outer is a big three compartments and the inner gate with the view to the centre yard. There is a couple of dragon in Ly dynasty made from stone which is carved sophisticatedly. The dragon is 1.3m long, 0.8m high and tons heavy.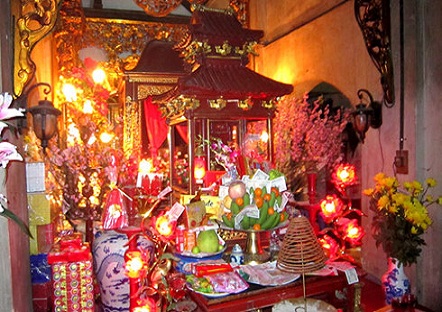 The main temple was built since the end of 11th century which is the place for worshipping Nguyen Phi in her hometown. The temple was built in Ly royal palace architect with 72 gates.
The most impressive parts could be the relics which are preserved throughout nearly nine centuries. Those area three basements of stone carved in the shape of lotus petal, two stone dragon heads, etc.
Nowadays, there are about 72 places honoring Nguyen Phi Y Lan in Vietnam, but the only temple in her hometown (Gia Lam, Hanoi) has the original design and ancient relics. There is seldom a place like that with quiet atmosphere to worship the Mother of the Country Y Lan.
This is not only the place to tribute the person that has merit with country but also the place to come back to the cultural, architectural and historical values of Ly dynasty.