Published: 00:45 Thursday - May 09, 2013
Ho Chi Minh City is considered the economic and cultural center of Vietnam. Therefore, it attracts a large number of visitors annually. Coming to Saigon (Ho Chi Minh City), the visitors will have a chance to not only enjoy the bustling pace of life here, but also explore a lot of stunning spots in the city. Notre Dame Cathedral is one of those attractions that you should not miss to visit while visiting Ho Chi Minh city.
Situated right in the heart of Ho Chi Minh City, Saigon Notre-Dame Cathedral is one of the most famous landmarks as well as the core Cathedral of this bustling city. Saigon Notre Dame Basilica (Nha tho Duc Ba) also has another name is Immaculate Conception Cathedral Basilica. It has two bell towels with 60 meters height, at the central of City. This is beautiful religion architecture of Vietnam which attracts many tourists most.
Saigon Notre-Dame Cathedral was constructed at the end of the 19th century by the French. Saigon Notre Dame Basilica (Nha tho Duc Ba) is 91 meters height and 35,5 meters width. The most beautiful impress is the wall. All bricks were brought from Marseille, France. It still keeps the color until today. The second impress is the Swiss Clock which put in front of church's dome. Working 130 years, the clock still does well. Front of Church is Park with 4 streets creates the Cross. The central of Church was designed by G.Ciocchetti in 1959.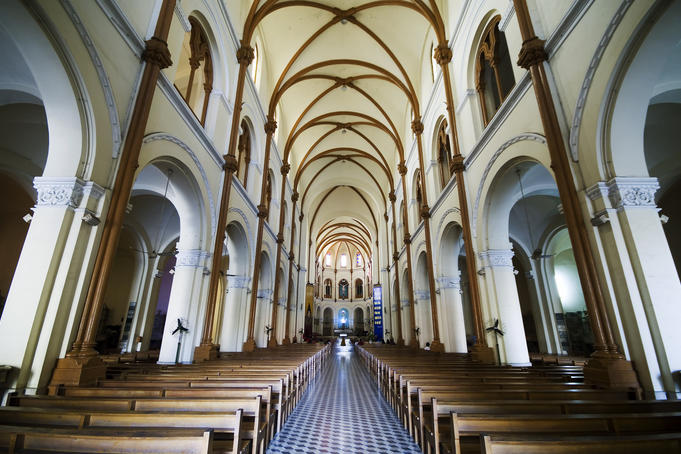 In 1959, the status of the Peace Virgin Mary, which made by precious marble, brought to Ho Chi Minh from Rome and put in front of the Church. Therefore, it's called Saigon Notre Dame Basilica (Nha tho Duc Ba). The status of Virgin Mary has the straight position, her hands keeps the Globe, on the Globe put the Cross and her eyes looks up in the sky praying for the world. With this architecture, it obviously becomes one of Vietnam popular destinations.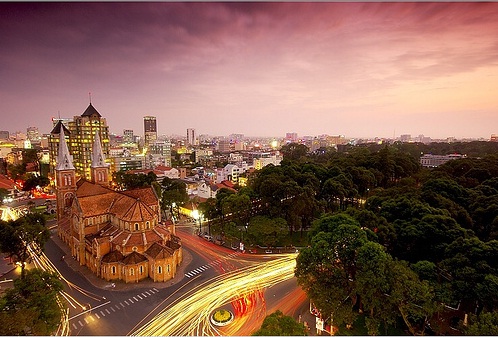 Today, Notre Dame Cathedral is not only a religious place but also ideal destination for local people and tourists alike to hang out. It also happens to be a wonderful background for Vietnamese movie stars, singers, models, and couples to take photographs or record movies. If you need to attend masses during your visit in Saigon, you can absolutely do so by visiting the basilica as no admission fee is required.
Compiled by Nguyen Hao