Published: 09:40 Thursday - July 21, 2016
Hang Pagoda is one of the three famous pagodas in Tra Vinh. The pagoda is an ancient pagoda that was built in 1637 and home to many different kinds of birds, storks and bats so that it was also called Bat Pagoda.
Hang pagoda located six kilometers away from the downtown area, the 12-hectare pagoda initially welcomes visitors with its dense tree shades and the mellifluous sound of birds chirping.
To enter the pagoda, tourists will have to walk through a cave-like entrance whose width, length and depth are 12 meters each, explaining for its name as Hang Pagoda (Hang means cave in Vietnamese). The main gate is called Kompong Chray, meaning "banyan-tree wharf," leads toward a river bank.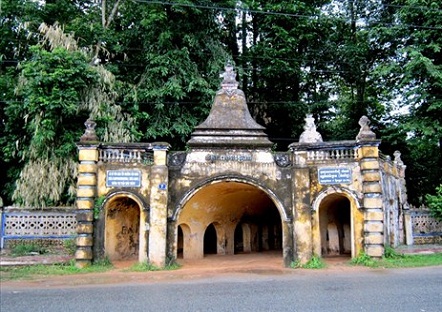 The pagoda's architecture shows strong influence of the Indian culture. The two statues of Yak, a formerly evil spirit converted to serve as Buddha's protector, guard the pagoda's gate with convex eyes, long fangs, wearing armor and holding a cane, flanking the entrance. In the Indian culture, Yak is known as a cruel ogre who was then converted by Buddha to protect the pagoda.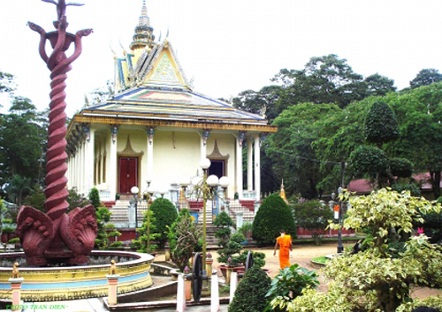 The main building of Hang Pagoda is placed in the center of a tree garden which makes it look like a giant palace. The front of the building is decorated with a meticulous carving of Naga, the god of snake with seven heads, while the interior exhibits rows of pillars, and paintings of Buddhism surrounding an imposing statue of Buddha in the center. The multi-layered roof displays a vibrant, intricate design. No sounds of wooden bells are heard, immersing the compound in a remarkably silent and tranquil atmosphere.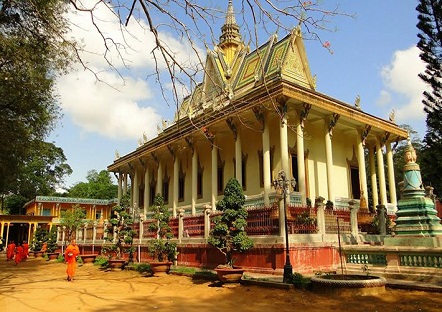 In general, the Khmer ethnic minority who reside in Tra Vinh tend to live a rustic lifestyle with very simple decorations in their houses. However, the pagoda represents a site that is dually imposing and sacred, serving an indispensable role in educating moral lessons as well as a center to preserve the traditional arts and culture of the Khmer people.