Published: 09:25 Thursday - July 14, 2016
Muong Lo valley is the second largest valley in Vietnam with many revolutionary relics, beautiful landscapes. It is home to Thai ethnic minority group and Thai people remain many unique traditional culture.
Nghia Lo, with a population of 30,000, is tucked away in a big, flat valley called Muong Lo and offers a lot of experiences to tourists. It is second only to the Muong Thanh valley of Dien Bien Province in terms of size and is surrounded by unlimited chains of mountains.
According to the epic story of Thais, two brothers bone-Ngan and Tao seek career. Create stopped down villages in Muong Lo building, constructed ancestral lands of the Black Thai people throughout the Northwest as seen in this fertile soil, abundant water resources. As for short-to Muong Then (Muong Thanh today) built the village of White Thai rice cultivation is also crucial.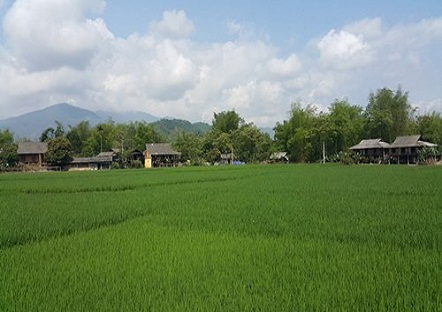 Nghia Lo Town tiny western Yen Bai, located between the basins acres Muong Lo vast field, surrounded by the Hoang Lien millennium white clouds. Large piece of land less than 3,000 hectares are inhabited by 17 ethnic groups with a population of over 27 thousand people, including Thai people account for 44% with how mysterious, fascinating culture make people charmed life discover.
The buffalo is the most important animals in agricultural production of black Thai Muong Lo. One year struggled to cultivate the land during the holiday Cyprus ethnic Thai factory where buffalo are also "food festival" by the buffalo rites vía "Eight mold straps", begs divine ancestors sheltered, protected for healthy buffalo to help families in agricultural production.
For Thai people in Muong Lo (Van Chan, Nghia Lo), lived on fertile lands, blessed be granted the natural products, so from time immemorial, they have accumulated, built for its culinary culture diversity, rich and fascinating.
There are many unique dishes, each dish its own taste, but taken together, they reflect the diversity and richness of culture in the culinary style of Thai people in Muong Lo, Yen Bai such as: xoi ngu sac, nem chua, xoi ca, thit tai chua,….