Published: 08:37 Friday - July 22, 2016
Vinh Trang Pagoda is one of the ancient pagodas in the Southwest. The architecture of pagoda is the combination between Asia and Europe so it becomes an attractive spiritual destination in Tien Giang.
The pagoda is located in My Phong Commune, which is three kilometers from the city center. It was built in 1849 by a Buddhist monk named Hue Dang using funds collected from practitioners. The religious site was seriously damaged by French colonists in 1861 and a severe storm in 1904. On both occasions, practitioners restored the pagoda to its original splendor.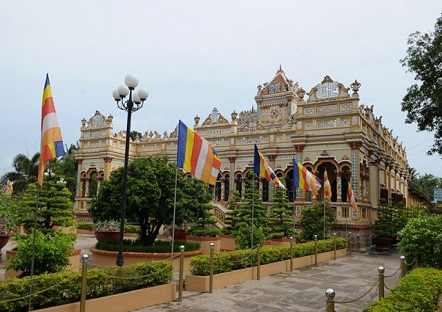 Vinh Trang pagoda is the biggest pagoda in Tieng Giang, with area of 2000m2 with many beautiful trees. However, formerly it was a small leaf hermitage set up in the early 19th century by District Chief Bui Cong Dat. In 1849, the Most Venerable Abbot Thich Hue Dang put it up a big pagoda and named it Vinh Trang Pagoda. After many times of changing who in charge of the pagoda and reconstructing, now the pagoda has many netlike panels, horizontal boards and oblong boards of the parallel sentences.
The beautiful structure features a mixture of Chinese, Vietnamese and Angkor (Cambodian) architectural styles. The pagoda consists of five buildings, two ornamental yards and 178 pillars. The extremely beautiful structures in the pagoda are two triumphal arches bearing an art of inserting bottle and porcelain fragments which create harmonious pictures illustrating the Buddha's legendaries.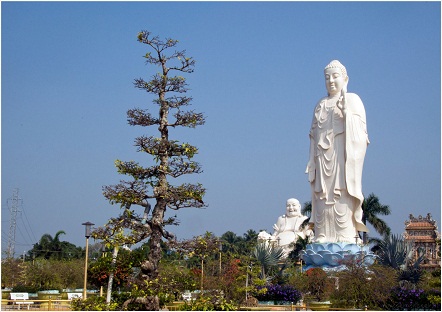 Inside the pagoda, there is a set of pictures "eight angels riding on animals" another set of statues of the Amitabha Holy Trinity carved in bronze, as big as a man, and more particularly, the set of the eighteen Arhants, wood carving work, is the only one, not two, in the west of South Vietnam, made by a number of artists in 1907. Graves of Buddhist priests who took care of the pagoda are scattered around. These graves are decorated with carefully engraved flagstones.
There are three entrances to the pagoda. The central Iron Gate is always closed, while the two side gates, which are designed in the Co Lau style, are open. The side gates are adorned with colorful porcelain mosaics featuring Buddhist folktales and natural scenery.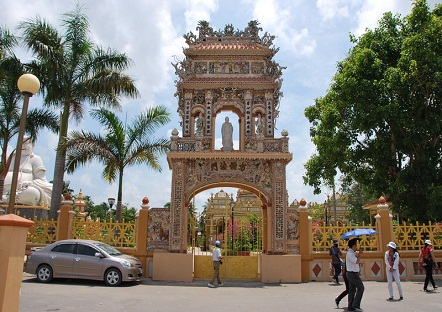 The facade of the pagoda contains both Asian and European architecture including elements from the Renaissance period, Romanesque style, French decorative flowers and Japanese enameled tile. From afar, the pagoda resembles the five-tower Angkor Temple.
The pagoda houses 60 precious statues made from copper, wood and terracotta. The most valuable collection is the 18 aghast made from jackfruit tree wood in 1907. Additionally, the pagoda has a bell that was cast in 1854.
The pagoda is surrounded by gardens of ornamental trees, ancient trees and bonsai, creating a peaceful atmosphere. It provided shelter for Vietnamese patriots and is recognized as a national historical and cultural relic by the government.