Published: 09:22 Saturday - July 30, 2016
Hien Luong bridge is a symbol of the division of the country, it is an important historical relic. The bridge across the Ben Hai River that formed part of the border between North and South Vietnam from 1954 until reunification.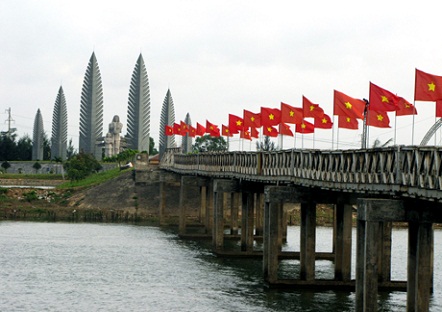 Hien Luong bridge had built since 1928 by the Government of Vinh Linh with the contribute by local people. The bridge is made of wood, piles of iron about 2m wide. It is only enough for walker. In 1931, the bridge was upgraded by the Indochinese Federation but other vehicles still across the river by ferry. In 1943, It was upgraded again and in this time, small vehicles can pass.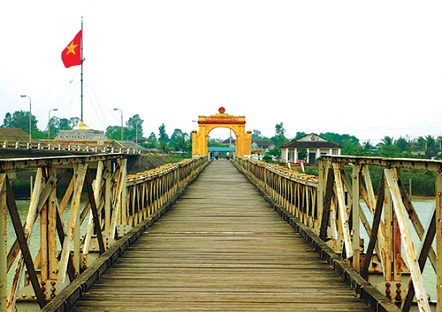 By 1950, due to military needs, French was rebuilt with reinforced concrete, 162 m long, 3,6 m wide, 10-ton payload. This bridge had existed for two years until the Viet Minh guerrillas was destroy bridge by bomb to stop the advance of the French. May 1952, the French built a new bridge consisting of 7 spans, 178m long, cylindrical reinforced concrete, 4m wide, both sides have a height of 1.2 m sure, maximum payload of 18 tons bridge.
The bridge was divided into two parts, each 89m long and painted two different colors. There are 450 wood panels at northern and 444 wood panels at southern.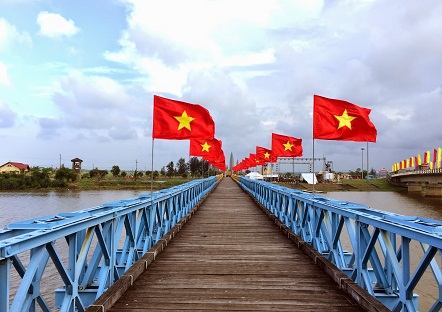 Actually this bridge too ordinary and nothing special about architecture. But why this bridge very famous? Following the travel guide, the bridge is witness to the Vietnamese people's fierce but glorious struggle and a reflection of their desire for and belief in victory. During the war, Quang Tri was the most devastated by thousands of tons of bombs and shells. In peace time, the whole country joins in the effort to assist the province's development.