Published: 09:09 Monday - August 22, 2016
Hon Khoi is a famous destination with many beautiful salt fields in Ninh Hoa, Khanh Hoa. The best time to visit Hon Khoi salt field is from January to September.
The Hon Khoi Salt Fields is one of the most unique tourist destinations in Nha Trang, where mounds of natural salt are manually harvested from shallow fields along Doc Let Beach. Salt production is a thriving industry in Nha Trang due to Vietnam's extensive coastline, generating about 737,000 tonnes every year.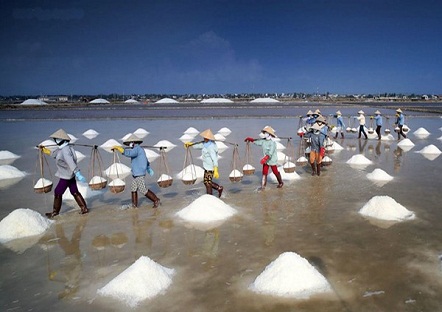 The best time to visit Hon Khoi Salt Fields are between the months of January and June, when the summer climate (with temperatures that can go as high as 40°C) allows for the salt to be directed from the East Sea to the fields. It is then left there to evaporate for about 10 days before it is collected in wicker baskets, each weighing up to 10 kilograms.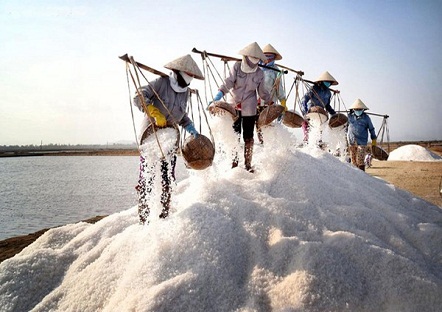 Unlike most salt fields in Vietnam, the strenuous task of tending to Hon Khoi Salt Fields is carried out by middle-aged women which takes place between 04:00 and 09:00. To protect themselves from the heat and salt, these salt workers wear conical hats, rubber gloves and boots, as well as facemasks. While conditions are harsh during these months, they are very approachable and friendly even though they can only speak in their native language.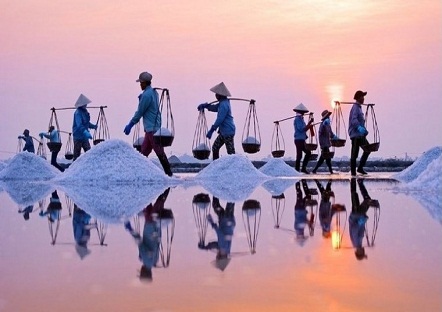 Hon Khoi Salt Fields are also popular spots for photography, where you can capture great views of the salt mountains and workers carrying heavy baskets across the fields well as a pagoda that sits atop a nearby hill. The fields are accessible within an hour's drive from city centre, though there are many full-day excursions where you can also visit other significant landmarks in Nha Trang.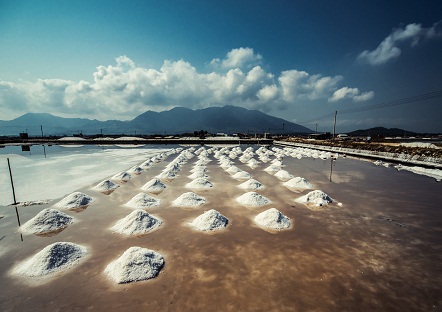 As it is a working industry in Nha Trang, visitors shouldn't expect tourist facilities in Hon Khoi Salt Fields, but it is still a culturally rich experience to see the locals working throughout the early morning.