Published: 08:18 Tuesday - August 09, 2016
Nang Han festival is a beautiful culture of Thai minority in Mai Chau province. Since 2008, the festival was held on February 15th of lunar month after 60 years of being forgotten
Nang Han festival honoring the heroine had to expel invaders of White Thai people, was held to just grateful She Han, both seek a prosperous, peaceful life, human condition, material prosperity, for better weather throughout the village. The festival is celebrated on February 15 every year, at the Xi'an Muong So. On this day, people offer incense, flowers, farm products, food made by the village.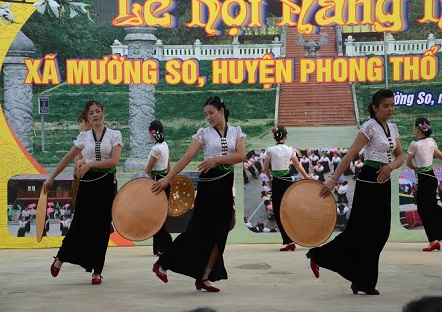 According to the legend of the Thai people in Muong - Phong Tho, Lai Chau, the Han She is the heavenly home, was sent down to earth born as a daughter of a poor family. At that time, Muong always been the enemy of the North invaded, her pulse military rulers against the enemy, victory, liberation Muong So. After defeating the enemy, she returned to heaven. God made the land for the shrine in the ruins of her home, which has battered the country Shrine besides showering before she ascended to Heaven.
Nang Han was Thai community worship the Goddess. Han She became one of six gods have supernatural powers in folk beliefs of the Thai people.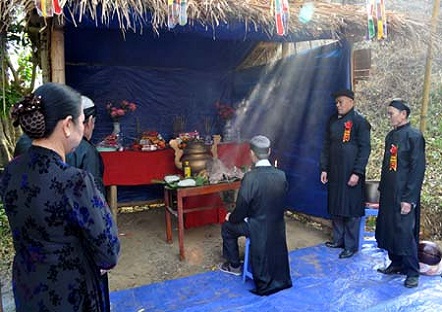 Since 2008, the cultural sector of Lai Chau province has given a policy to recover Nang Han festival after 60 years forgotten. Annually on February 15, in Tay An village, Muong So commune, Thai people rejoice to hold the festival. On that day, villagers carry a thurible, flower, agricultural products and food created by themselve. In addition, there are also many unique art activities such as dances with Thai characters integrating with the sound of Tinh tau.
Thai girls are bright in "com" dress to play "nem con", kick a shuttle cock, and tug of war. The energetic boys walk on stilts, kick a shuttle cock and catch fish. The guests who join in the last day will enjoy the specialties of Thai people with the famous state of Tay Bac.