Published: 10:55 Wednesday - August 31, 2016
Quoc Hoc Hue is a famous and the oldest high school in Vietnam. Quoc Hoc Hue has a unique architecture that has been remained over 100 years.
Quoc Hoc Hue was the school for children from royal and noble families. On the site that used to be former squadron headquater – a royal navy headquarters, French colonialists built this school to train those who would serve the feudal colonial government. Now, it's named Hue National High School ans is a high- profile school that all students must pass a competitive entrance exam to get the admission.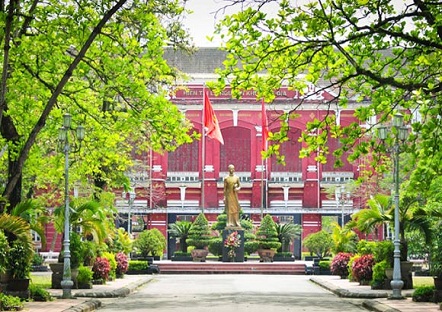 Established in 1896, after more than 100-year history, Quoc Hoc today is still a well- maintained French Colonial- style construction. The school is a complex of five blocks of classrooms, big football field, basketball court, five badminton courts, a swimming pool, a medium stadium and also a block of dormitory. It's considered the largest and also the most beautiful high school campus in Vietnam.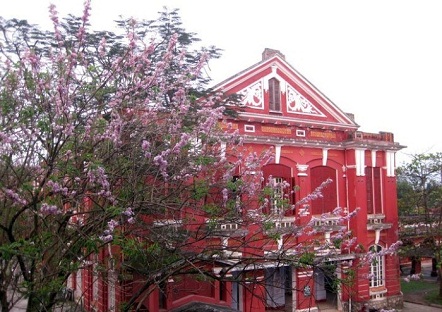 This surrounding makes a great picture of red French designed building in harmony with green background of a lot of large shady trees and stone benches. Especially in spring, when "diep anh dao" (a kind of cherry blossoms) is in bloom, the whole picture is filled with pinky dots above red thatched tile. Students often call that period of time "Pinky cloud season" and regard it as the most special moments of a year. These are the reasons why Quoc Hoc is also called "Pinky school beside Perfume River Bank" in the song with the same name. Lucky if one has a chance to drop by the school during that season.
Not only is Quoc Hoc famous for its charming scene, it also gains prominence for tradition of patriotism, industriousness, academic achievements and respect for the time-honored values of teacher-student relationships.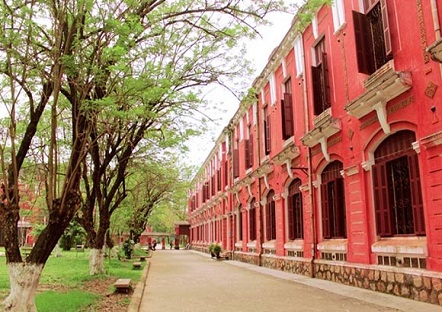 Tourists who want to visit Quoc Hoc High School should remember that the school doesn't allow entrances during class's time, which ends at 5.15 p.m.  Every day (though it might be easier to go through the two side gates, in fact). What's more, the students are very eager to talk to foreigners, especially English speakers and French speakers. That's the place for those who want to take photos of natural background, understand more about French colonial architecture and watch female students in white aodai, sparkling in the nice background.