Published: 09:24 Thursday - September 01, 2016
Hue has a lot of beautiful sightseeing with many famous ancient pagodas in Vietnam. Thien Mu pagoda has unique and ancient architecture with a special legend and location that make Thien Mu pagoda become a famous attraction in Hue.
Thien Mu is located at the end of Kim Long Road, in Huong Long Ward, on Ha Khe hill, on the north bank of the Perfume River.
The name of pagoda derives from a special legend. Long time ago, an old woman appeared in the hill where the pagoda stands today, telling local people that a Lord would come and build a Buddhist pagoda for the country's prosperity. Lord Nguyen Hoang therefore ordered the construction of the pagoda the " heaven Fairly Lady" or " Thien Mu in Vietnamese.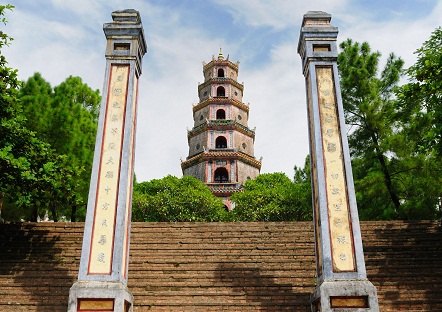 The most striking feature of the pagoda, Phuoc Duyen tower (initially called Tu Nhan tower), was erected in 1884 by King Thieu Tri, and has become the unofficial symbol of Hue. This octagonal tower has seven storeys (2m high), which is dedicated to a Buddha who appeared in human form. It is the highest stupa in Vietnam, and is often the subject of folk rhymes and cadao about Hue, such is its iconic status and association with the city. More importantly, it is regarded as the unofficial symbol of the former imperial capital.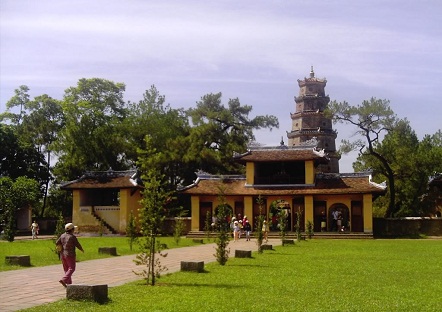 To the left of the tower is a pavilion sheltering an enormous bell. The bell, called Dai Hong Chung, was cast in 1710 by Lord Nguyen Phuc Chu. It is famous for the great size, which is 2.5m high and 3,285 kg weigh. It is considered to be an outstanding achievement of 18th century bronze casting.
To the right of the tower is a pavillion containing a stela dated from 1715. It is set on the back of a massive marble turtle, a symbol of longevity, and is 2.58 m high.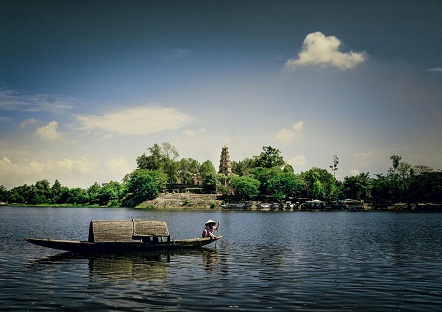 Besides, there are several popular works of art inside the pagoda, which are of great captivation to tourists. For instance, Dai Hung shrine, the main-hall, which presents a magnificent architecture. As bronze cast statues, it shelters some precious antiques: the bronze gong cast in 1677, the wooden gilded board with Lord Nguyen Phuc Chu's inscriptions (1714).
Today, the pagoda is surrounded by flowers and ornamental plants. At the far end of the garden stretches a calm and romantic pine-tree forest. It is much well-maintained and very welcoming to all visitors.