Published: 11:18 Saturday - November 05, 2016
The pagoda was built in Ba Vang mountain , Quang Trung, Uong Bi and has the largest sanctum in Vietnam. Moreover, Ba Vang pagoda is also know as Bao Quang pagoda and becomes a new tourist destination in Quang Ninh.
The pagoda located on the 340m tall Thanh Dang Mountain, Uong Bi City, Quang Ninh Province, includes a large forecourt, a sanctum, a Holy Mother's temple, a Mountain Spirit temple, and an old longstanding well.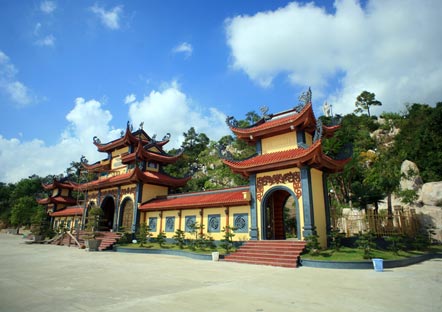 The site was originally built in the 13th century and has been renovated several times. The first restoration was conducted in 1705 by Truc Lam Zen Master Mahasamon Tue Bich Pho Giac who was born in 1658 in the reign of King Le Hien Tong.
Based on the archaeological excavation results at the base of the pagoda, such as 30x15cm pinkish trough-shaped terracotta tiles and 40x40cm terracotta flooring bricks, the pagoda was built in the Tran Dynasty. These bricks and tiles were decorated with four petaled flowers, a popular pattern in the Tran Dynasty.
Wars and turbulent political events over time have ruined this historical pagoda. The most notable artifacts remain in the pagoda today include a 0.52m high, 0.38m wide, 0.12m thick stone stele; two stone turtles, and a 1.2m high, 0.22m thick stone incense tower. As time goes by, the Chinese words engraved on the stele and tower were worn away and very hard to read. However, through the presentation, experts suggested that the stele was engraved with the name of a chief monk, while the tower was engraved with these words: Thanh Dang Mountain, Bao Quang Pagoda, Heavenly Pillar.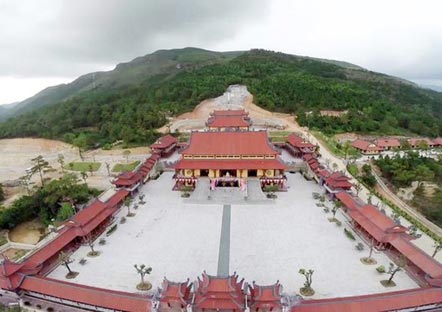 In 2007, local authorities requested Venerable Thich Truc Thai Minh from the Truc Lam Yen Tu Monastery to manage the Ba Vang Pagoda. He managed to raise the funds from tourist donations and Buddhists throughout the country to restore the pagoda and has received more than VND400 billion. The pagoda was built on an area of 21.818ha, including a 3,500cu.m large three-compartment sanctum that has been considered the largest in Vietnam. Other constructions including preaching chamber, contemplation room, library, and steeple were designed and built harmoniously, preserving the traditional traits of northern pagodas. All statues in the pagoda such as Tam The (three Buddhas representing the past, present and future), Quan Am Bo Tat (Bodhisattvas), La Han (Arhats) are now built up to 2m or more in height.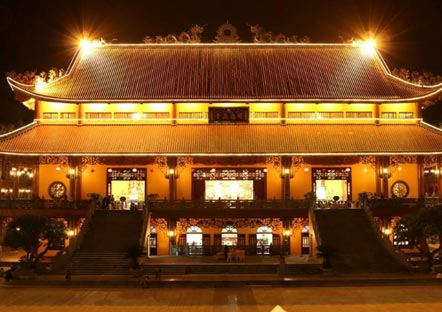 Considering the pagoda's historical value, Quang Ninh People's Committee has ranked it among province's historical heritage sites.
The Ba Vang Pagoda is likely to become a well known spiritual tourism destination attracting lots of domestic and foreign tourist and Buddhist pilgrims. According to the organizers of the ribbon cutting ceremony, during the two days of March 8 and 9, the pagoda welcomed nearly 100,000 Buddhist pilgrims and tourists. "In the near future, we will boost volunteer programs to help the disadvantaged across the country associated with Buddhist events," said Thich Truc Thai Minh