Published: 10:58 Wednesday - October 26, 2016
Cao Dai is a major religious in Tay Ninh and attracts many people take part in. And one of the most important ceremonies of Caodaiism is Duc Chi Ton ceremony to wish of the peace and happiness.
There are authorities, people in Tay Ninh province and more than 30,000 follower of this denomination coming to join in this ceremony. The great ceremony of Duc Chi Ton is organized in the wish of the peaceful country and people, proper weather, peace and contentment creatures and seeking for the good, etc.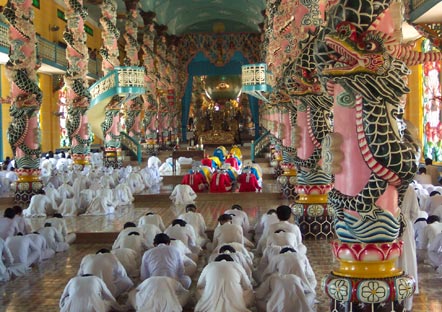 The ceremony has been organized in a new atmosphere of the recovery of the economics, people's lives as well as the follower of Caodaiism's living standard is raised and they believe in the role of the State and the Communist Party.
In the happy atmosphere, strict religious practice, the great ceremony is organized in the shouting of the dragon dance along the area of Dai Dong commune yard in front of Duc Chi Ton temple.
The performance of the dragon dance of more than 50m with hundreds of participation is the special one. The sound of drums is like supporting to the performing of the dragon and lion dance. They seem not to be tired after hours of dancing.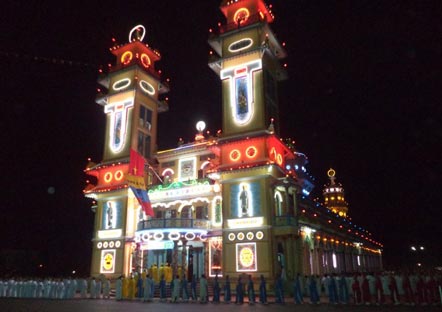 Meanwhile, the ladies are charming in the long dress typically for the Caodaiism going around the Dai Dong commune yard. The dresses are decorated in the sparkling way with the moon and light bowl's shine to create a beautiful color for the festival.
Beside the dragon and lion dance, the festival is more crowded with the performance of four spiritual animals, ladies performing traditional musical instruments, restoring the action of the Xuan Zang going to seek Buddhist scriptures, etc that amused the children.
After the festivities are ended, the Caodaiism in the traditional white Ao Dai practice the ritual of offering, praying Duc Chi Ton. Then, they visit the exhibition centre of the legends, national heroes, and the traditional tools of the nation.