Published: 09:22 Monday - October 03, 2016
Jade Emperor Pagoda is one of the most famous pagodas in Ho Chi Minh city. The pagoda is an ancient pagoda and was built by Chinese style.
Jade Emperor Pagoda is current located at 73 Mai Thị Lựu Street, District 01, Hochiminh City, Vietnam. It is also known by the names Jade Emperor Temple or Phước Hải Pagoda. During French colonial period in Vietnam, this pagoda was called Đa Kao Pagoda. 
This Pagoda was built by Liu Ming (he is from Guangdong, China, with the legal name Liu Tao Yuan) for worshipping the Jade Emperor at the beginning of 20th century.  In 1982, a Buddhist monk named Thích Vĩnh Khương took over the temple. From that event, this temple belonged to the  Buddhist Sangha of Vietnam. Jade Emperor Temple was renamed "Phước Hải Pagoda" in 1984.
This pagoda has an area of 2.300 meters square. Just pass through the only door to the temple, Phuoc Hai Tu arrived at the courtyard, courtyard divided into 3 parts.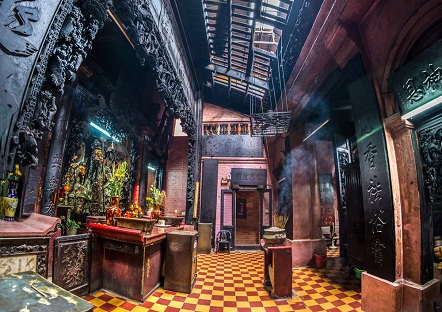 In the first half of the courtyard of the Jade Emperor, we have a small turret with a statue of Ho Phap (Dharmapala) a Buddhist philosopher, after this first part of the courtyard is a small pond with turtles and benches for sitting, recognizable by the huge pot of banyan tree that is in the inside of the pond.
The last part of the courtyard, in fornt of the access to the inside of the Jade Emperor pagoda, have hand left the so- called incinerator, a chimney shaped structure/ boiler where believers burin offering of paper, since according to religious beliefs, that smoke will reach to the ancestors and deceased in heaven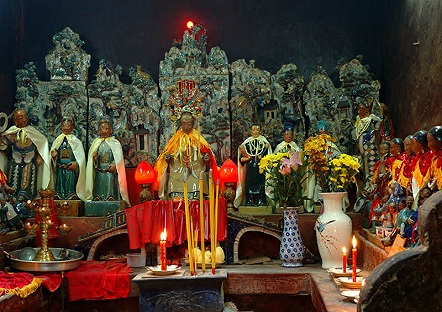 In that same place of the outside patio, but this time located on the right bank of the entrance to the Temple of Jade, we have shelter for turtles. Turtles in Asian culture represent longevity and are also considered in Vietnam as a symbol of fortune and good luck. At this small retreat at the gates of the pagoda, we have hundreds of these animals, which made value to this place the nickname of the Pagoda of the turtles.