Published: 08:43 Wednesday - October 19, 2016
Long Tong festival is one of the most important festival of Tay ethnic group in Bac Kan and it attracts many tourists enjoy the festival. The aim of Long Tong festival is praying for favourable weather and healthy crops as well as health and a happy life.
Ethnic groups in the northern moutainous province bac Kan held the Long Tong ( going to the field) festival on 9th – 10th of the first lunar month at Ba Be Lake in Nam Mau commune, Ba Be District. During the two day event, locals from Tay, Mong, Dao ethnic minority groups in Ba Be and Cho Don Districts as well as visitors, flocked to Ba Be lake for the annual festival – a traditional of the Tay ethnic group.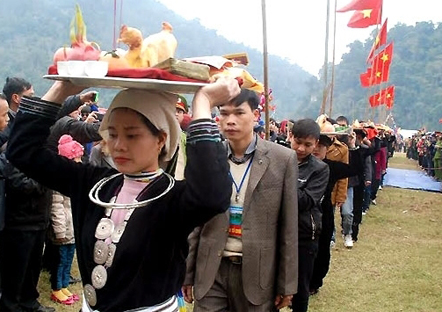 Long Tong Festival consists of the same procedures and parts: worshiping the God of agriculture, traditional games, folksong singing contests, etc. Normally, the first part of the festival, worshiping, starts very early in the morning. According to the Vietnamese culture, the God of agriculture is the one who looks after the fields, gardens. He can conjure up the wind, the rain to make a bountiful harvest and give the villagers a peaceful year. As a result, the Vietnamese people have a custom of worshiping the God of agriculture in the spring to ask for his good wishes.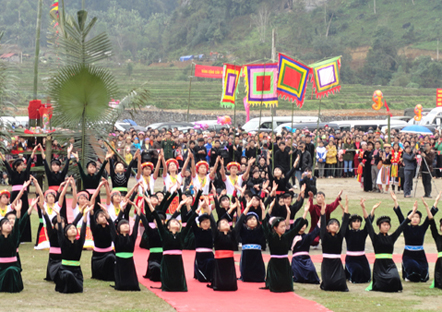 The event also featured a wide variety of cultural and arts activities, attracting a large number of local people and visitors.
In additional, numerous traditional folk games were held such as bull fighting, nem con ( a game throwing a cloth ball), dug-out canoe racing with decorations of floating flower garlands and coloured lanterns.
Joining the festival, you have a chance not only  to enjoy the beautiful and imposing scenes of Ba Be lake but also learn more about the lives and traditional cultures of the local ethnic people.