Published: 13:54 Tuesday - October 04, 2016
Y Ty is famous for terraced paddy fields and the tradition of ethnic groups. Y Ty becomes an attractive destination for tourists who want to immerse themselves into nature.
About 80 km north of Lao Cai, Y ty is made up of mountainous terrain with steep slopes and a tough climate, with many streams that make it difficult for locals to farm any grain variety.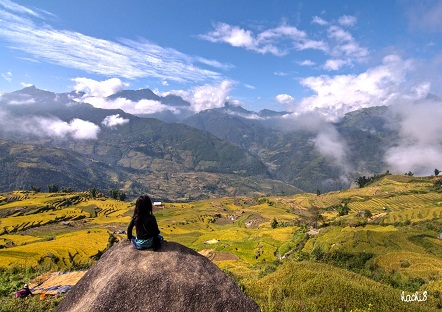 In order to adapt, locals created terraced paddy fields, with each generation expanding them, one on top of the other hugging mountains.
At 2,000m above sea level and wrapped in mist and clouds, the terraced paddy fields impress visitors with a beautiful view of where sky meets earth.
 Y Ty is beautiful throughout the year, though September and October are considered the best months to visit. In winter, the area is covered by clouds clinging to the side of mountains, looking like a heaven of fairies.
The white colour is replaced by pink of the Do Quyen flower in full bloom in spring. As summer comes, the grey paddy fields seem to be covered in a new cloth by the skillful and industrious hands of locals.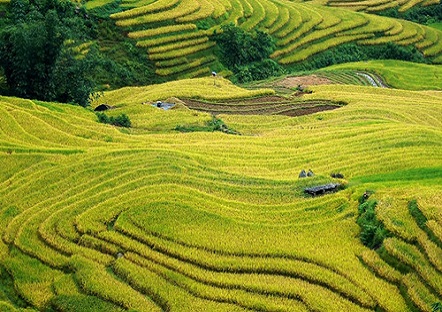 In May and June when summer rains begin, water flows to the fields, softening dry soil to allow locals to begin planting rice. The brown soil, sparkling water, sun rays and green rice seedlings all create a wondrous picture for tourists.
In September and October, the rice paddies turn yellow dotted with houses with wooden roofs, another example of ethnic people adapting nature into a beautiful landscape.
It is no surprise that the terraced paddy field The Pa with an area of 233.1 hectares was recognised as a national landscape site by the Ministry of Culture, Sports and Tourism.
Y Ty, however, does not only have the beautiful terraced paddy fields but also has traditions of great significance. The forest-worshipping ritual or "Ga Ma Do" of the Ha Nhi ethnic group is one such ritual. The ritual is observed in the first lunar month to pray for peace, favourable weather and bountiful harvest, the further development of the locality and country and prosperity.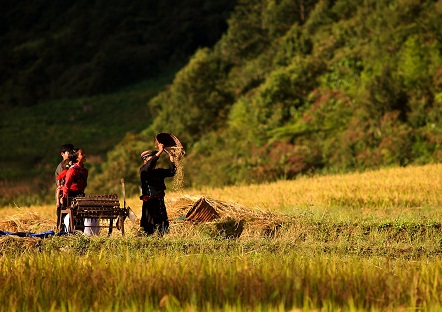 Each of the eight hamlets of Ha Nhi people has a sacred forest to worship the forest god who protects the village. The Ha Nhi people see trees and animals in the forest as having souls.
With two national heritages in one place, Y Ty is worthy of a visit for any tourist who wants to conquer winding mountainous roads to get a view of beautiful landscapes.