Published: 08:37 Thursday - October 20, 2016
Ben Tre has a complex network of rivers and canals so the best way to visit Ben Tre is boat. You can hire a boat to go around and enjoy the peaceful landscape here.
Prices vary somewhat -- expect to pay around 100,000 VND per hour if arranging privately (more if via a hotel) and the boatman will want you to do a longer trip of 3-4 hours. While there is nothing wrong with spending that long, you really only need two hours to see the best parts.
We particularly enjoyed a section of very narrow canal close to Ben Tre and a more expansive, winding canal on the far side of the Ham Luong River. We found this to be an especially beautiful area rich in scenery and river life.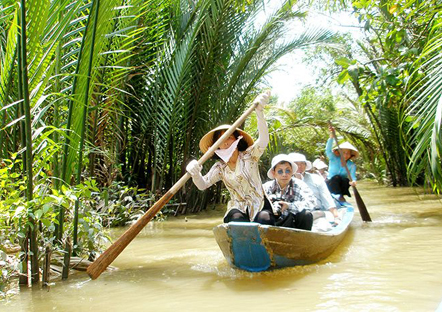 We will have chance to see the people living along the river which has very basic living condition. In this area, mostly people living in the water or in the orchard which full of healthy and delicious fruit, if you like photograph, it is a chance for you to have the portrait of children living in the river, or people who working in the boat to sell the agriculture product. It is such an impression image of mekong delta.
After short time traveling by boat, we will arrive small island in the area where we will enjoy the atmosphere of orchard of local people where we can meet and enjoy fresh fruit during watching live traditional performance of music. This traditional music recently was received the UNESCO certificate honouring Vietnam's DON CA TAI TU as an Intangible Cultural Heritage of Humankind.
When we crossed the Ham Luong there were a number of medium-sized freighters moored midstream that were being loaded -- by hand -- with fresh cut coconuts. There was an awful lot of coconut-chucking going on.
The boatmen tend to try and pad out the time with a trip to some Taiwanese-owned fish farms, but they are really not worth the effort -- nor the extra 100,000 dong that you'll incur to do so.