Published: 20:32 Sunday - June 24, 2012
When you mention Bao Loc City in Lam Dong Province, people think of the magnificent Dambri Waterfall, immense tea and coffee plantations and winding hills which exude the soothing dried tea aroma.
However, if you look beyond Dambri you will discover that Bao Loc also has the magical Suoi Mo (Dreamy Stream) which is a great spot for a romantic trip.
Located 14 kilometres from the centre of Bao Loc City, the stream is located in a small rough alley in Dai Lao Commune. To get to the stream is not difficult. From the centre of the city, you can ride heading towards HCMC for eight kilometre to reach old Dai Lao Bridge. Then you go straight for six kilometres and will see a small alley with a fabric signboard 'Giao Xu Suoi Mo' (Suoi Mo Parish).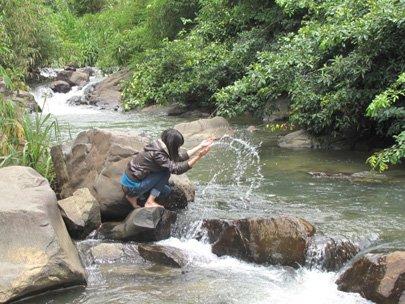 A tourist plays with water on Suoi Mo Stream in Dai Lao
Commune, Bao Loc City in Lam Dong Province 
 Nipping into the small alley for about 500 metres, you park at a local house for VND5,000 for a motorbike with the stream on the right.
Its name is no exaggeration as the stream will amaze tourists at first sight with very pure and cool water squeezing through thousands of rocks in diverse sizes and shapes. The stream is totally primitive with dense, wild trees lining its banks. Among the wild trees, travelers will discover many strange fruits, flowers and lianas which maybe they have never seen before.
The interesting thing for groups of travelers in the central highlands is stepping on the rocks to go along the stream and appreciate the pristine nature. Amidst the long stream, there are many big rocks for tourists to take a rest, play with bubbles, chat with partners or even eat under the shady groves.
After conquering nearly one kilometre of the streams, tourists will reach a waterfall with two layers. The fall is not imposing by its height but the water stream is like a silver carpet exposing itself in the immense greenness of forest all around.
Under the falls is a small lake where tourists can swim, but remember to wear a life-jacket to be safe. Moreover, on the right of the falls is a giant rock where groups can have a seat to relax after a long walk and admire the beauty of the falls.
There is not any food service in the stream but it is near a main road so travelers should buy some snacks and water at a grocery at the beginning of the alley or at Dai Lao Market near the bridge. Normally people are going past this way to Dalat City but I think it is worth your while to stop by Bao Loc and spend a short time to exploring the stream for a nice fun day at one with nature.
SGT