Published: 14:32 Wednesday - June 13, 2012
Thac Ba Lake is one of three Vietnam's largest artificial lakes and famoust for the first hydro power plant. Thac Ba Lake is known as an actractive eco-tourism site
Thac Ba Lake was created in 1970 by the construction of a dam on the Chay River. Thac Ba reservoir covers a total area of 23.400 ha, of which 19.05 ha is water area and the remaining 4.35ha of islets on the Reservoir. The length of the Reservoir is 80km, maximum width is 10km, the average depth is 15 - 25m and maximum depth is 42m.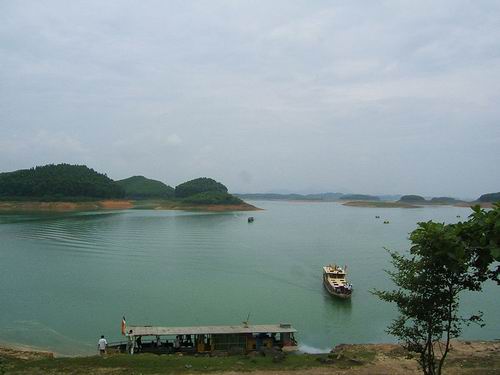 This artificial lake has 1,331 islands and hills with diverse ecological environments. The water in the lake is blue and clear, and imprinted with the reflections of the surrounding ancient forest. 

Tourists in Vietnam tours can go to visit Thuy Tien cave, Xuan Long cave, Cao Bien and Chang Re mountain, Trinh Nam island ... Coming to Thac Ba, tourists can also discover the natural beauty of primitive forest and thousands of islands, rocky mountains.Thac Ba Lake is not only a beautiful landscape, but it is also a national vestige. In 1285, the Thu Vat Battle took place under the command of Tran Nhat Duat against Mongolian invaders. During the resistance war agaist the American, Thuy Tien cave is the revolutionary base of Yen Bai provincial committee.
Thac Ba is recognised a place of historical and cultural interest by the government. There are major plans to develop eco-tourism resorts in the surrounding area. For a long time Thac Ba Lake has become Yen Bai people's pride.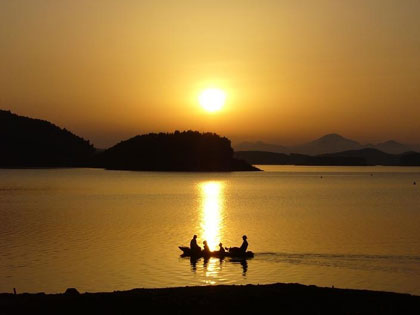 There are 12 ethnic minority groups such as Dao, Tay, Nung, Cao Lan, Phu La.surrounding Thac Ba reservoir. These ethnic minority groups feature their own special and colourful traditional festivals. Coming to Thac Ba lake, tourists will have chance to enjoy speciality fish dishes, such as ven (bream), lang (hemibagrus), qua (snake-head), bong tuong (goby) and thieu bac (culteralburnus). Visitors in Vietnam travel can also sample Dai Minh famous sweet mandarins and pomelos
Source: http://www.vietnamspirittravel.com