Published: 15:22 Monday - April 23, 2012
The lake has a charming mountain-water landscape with the rows of green trees that reach the high and dangerous cliffs, shade on the water surface, bend following the fluctuate valley having underground rocks
Thang Hen Lake is one of the most fascinated attractions in Cao Bang, included in the community of 36 other lakes, and locates in Tra Linh district, 25km far from Cao Bang central commune. The lake is rhombus-shaped, 3000m long, more than 1000m wide, thousands of meters higher than the sea level, rounded by old forests and sharp rocks. The lake's name means "the tail of bee" in Tay language, because it looks like the bee's tail when being seen from high.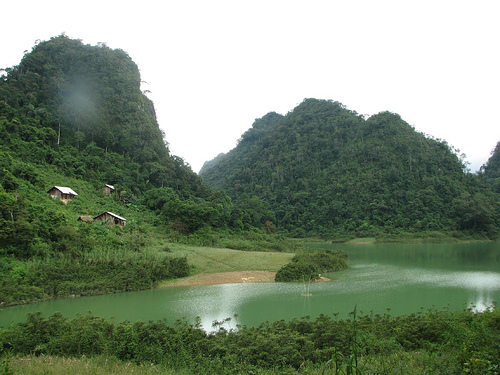 The lake has a charming mountain-water landscape with the rows of green trees that reach the high and dangerous cliffs, shade on the water surface, bend following the fluctuate valley having underground rocks. In the morning, from the top of the mountain looking down at the lake, people can see the clouds passing across that likes bands of white silk flying in the wind.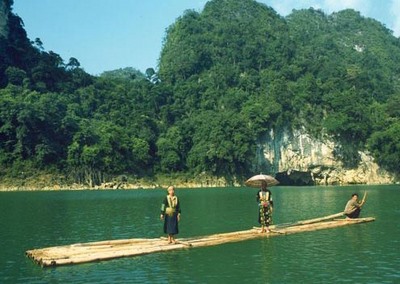 In the upstream of Thang Hen lake, there is a wide cave where water unstoppably flows out, creating an extremely imposing scenery. Every day, there are two tides moving up, down so that in both flooding reason and dry reason, the water of Thang Hen Lake is always purely green.
In Thang Hen Lake zone, there are a sheer rocky brink that is 5m - 30m deep and a 20m-high cave through up to the mountain slope. In the rocky mountain, there grows specious types of plant such as nghien (nghiến) tree to take the wood for building houses, bang (báng) tree having the trunk that can be fermented to make bang wine, and also black canary and white canary.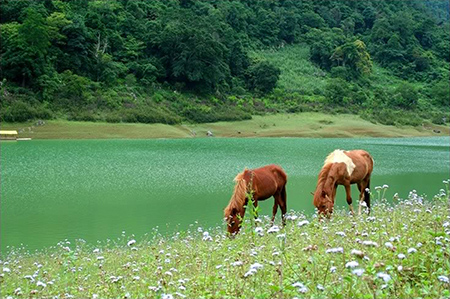 Thang Hen village situates about 2km far from the lake, containing merely house on stilts which have gutter made from tile and all parts made from nghien (nghiến) wood. The richest and most crowded hamlet is in the same valley to the lake and about 2-3km further. Thang Hen Lake can control the climate of the near area: it can be abnormally cold in the summer nights.      
Translated by DuongVT
Source: NTO