Published: 09:21 Monday - September 12, 2016
Phuoc Kien pagoda is an unique pagoda in Dong Thap because of giant lotus leaves. So, it attracts both domestic and foreign tourists to visit Phuoc Kien pagoda and the giant lotus leaves.
The pagoda was established in the 18th century. It was the revolutionary base in the two wars of resistance against France and the US. The pagoda was mostly demolished in 1966 after an Us bombing, and then it was rebuilt by the local people. However, local people in Dong Thap province often refer to it by the name "Lotus King Temple" because there are many giant lotuses in the temple pond.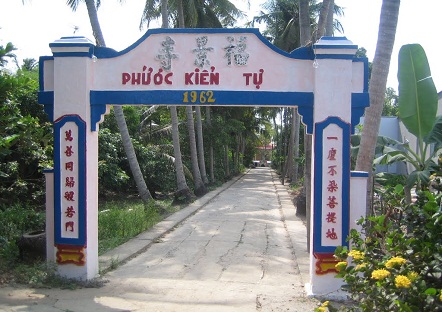 The temple has two lotus ponds, the small pond in front and the large pond at the back, which once the wartime bomb craters.
There are many kinds of lotuses in the ponds but the most special is the one with big, thick, spiny leaves with diameters from 1.5 – 2 meters. Lotus stems are as big as adult wrists, with leaf edges of 2cm – 5cm.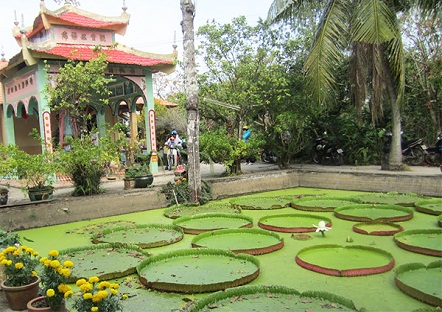 The front face of the leaves is glossy green while the under face have many thorns and large tendons. In particular, mature leaves can "carry" a person weighing up to 80kg.
According to Venerable Thich Hue Tu, this weird lotus variety appeared in the ponds in 1992. Nobody knows its name but local people commonly call it as the king lotus.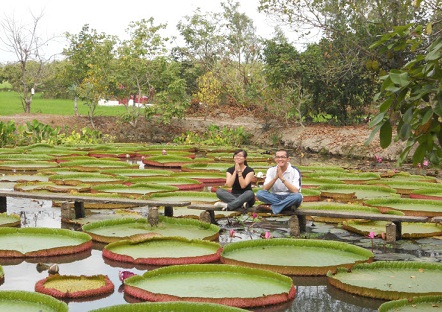 In the dry season, lotus leaves are just 1 to 1.5 m wide but in the rainy season, they can "bloom" to nearly 3m wide. Lotus flowers bloom in 3 days, twice a day and their color continuously changes.
This strange kind of lotus originates from Amazon, with the scientific name as Victoria regia.
Many tourists come to the temple are so excited to be standing on lotus leaves.