Published: 11:49 Tuesday - June 26, 2012
Vu Quang National Park Located in Vu Quang District, north-west of Ha Tinh Province, covers a total area of 52,882ha, 96.7% of which are natural forests. It lies in northern Truong Son (long mountain range) area with an average height of 800m, the slope of 25-35 and many rivers and streams.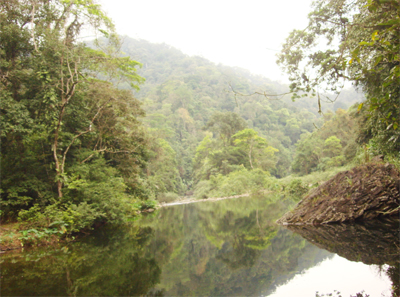 61% of the primitive forests are subtropical evergreen forests and tropical evergreen forests with plentiful flora and fauna. There are 307 high-class floral species of 236 genera and 99 families, 60 species of mammals, 187 species of birds, 38 species of reptiles, 26 species of amphibians and 56 species of fish.
Specially, the National Park boasts three endemic species of mammals, including Cha va chan nau (Pygathrix nemaeus), Ha Tinh vooc (Ha Tinh langur), Vuon ma vang (Yellow-cheeked ribbon) and two rare and precious mammals of Sao La (Starfish Saola) and Mang lon (Muntjac).
The area was once Phan Dinh Phung Revolutionary Base which was classified by the State in 1995 as a historical relic. Today, the Province has implemented a project on preserving and restoring the relic to mark the 160th birthday of Phan Dinh Phung, the leader of Can Vuong Uprising against the French Colonialists in late 19th century.
Thanks to its high-bio-diversity, Vu Quang National Park has become an attractive tourist site for both domestic and foreign visitors.  
Source: http://ngoaivuhatinh.gov.vn