Published: 11:28 Tuesday - June 26, 2012
Phuoc Binh National Park is established on June 8th, 2006 with a total natural area of 19,814 ha. Its target is to enhance riverhead protection capacity for Cai river system in Ninh Thuan prov-ince to serve production and living activities for social and economic development of the South Central area.
Moreover, to preserve biodiversity, to maintain and develop flora and wild fauna species in Tay Nguyen and South Central area, serving scientific research and education tasks on tropical forests, dry forests and ecotour- ism development in Ninh Thuan province and South-Central area.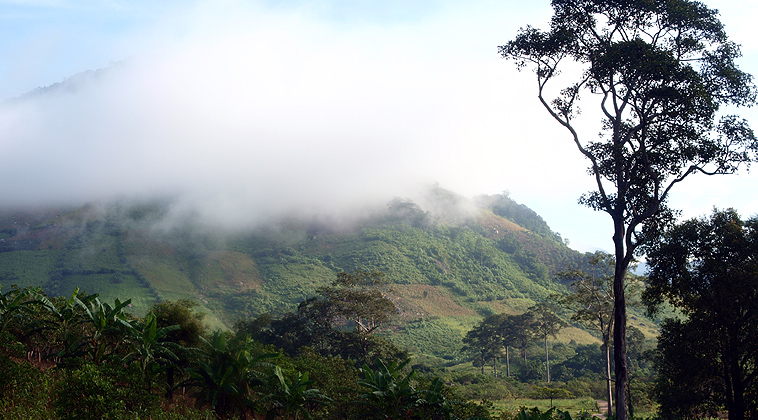 It represents for high mountainous ecological system of Ninh Thuan province, having high value in natural landscapes, biodiversity with various sources of gen animal, plants. Bordered with Bi Doup National Park - Lady Mount of Lam Dong province forming a large nature preservation area. Phuoc Binh National Park is a climate-transi- tional area with diversified forest categories including 6 main cate- gories and 8 subcategories.
Plants here are very abundant, consist- ing of 1,225 species, 156 families, 584 branches and some typical endemic species such as Permou, Leucaena leucocephala, Pinus Krempfii, Dalbergia oliverrii… Regarding fauna diversification, together with Bi Doup National Park- Lady Mount, this place forms a population of Vietamese typical birds .
On general appraisal of development indices for some forms of tourism, this area has a lot of potentials for tourism development due to abundant, original and typical flora, having some typical species in the region, endemic and precious domestic species. 

Tourist itinerary by road is very specific, beginning from Gia Nhong station, Bo Lang station to the foot of Mount Hon Chang (Fujian cypress forest), Da May stream to Mount Gia Rich and some ecological tourist spots such as ecological lake of Thuong river, Da May ecological lake, Gia Nhong stream, Cai River in Hanh Rac cultural village.


In this area there is a very interesting and potential tourist spot named Ma Lam waterfall or Chapor waterfall according to Raglai language, at the altitude of 100 m above the ground, at Phuoc Tan commune, Bac Ai district.
This waterfall is located on a big branch of stream originating from a forest of high trees and flow- ing to Sat river, away from Ma Lam hamlet about 45 minutes on foot, water tumbles all year mak- ing beautiful scenery. Around this waterfall is a forest of high trees with many granite banks that are ideal stopovers for tourists after their hard hike. It is impossible to be compared with super water-falls in Western Highlands, how- ever, Ma Lam waterfall is one of beautiful and unique ones in the Central coast.

Phuoc Binh tourism brings people back to tranquility of Nature. Visitors in Vietnam tours live in the pure atmosphere with cool climate of four seasons as are traveling on Langbiang Highlands. Ma Lam stream with crytal clear water flowing around all year long embraces mountain villages and hamlets of Raglay people. Four-season orchards on mountaide sides provide plenty of sweet fruits for tourists visiting Phuoc Binh. 


Can wine from Phuoc Binh is famous for its sweet smell and deliciousness as it is made from fermented green leaves of the forest and water from the riverhead of Ma Lam stream.
Sounds of Chhar and Sarakel mix with sound of Chapin guitars resound somewhere in the distance on maize milpas fascinating one's heart. Customs of offering new rice harvest and leaving ghost ceremony with spiritual rituals are favourite topics for those who love to do research on folklore. Miraculous nature of Phuoc Binh in association with legendary Pinang Tac stone bank location is suggesting ecotourism combin- ing with historical relic excursion and native Raglai culture
Source:http://www.ninhthuantourist.com