Published: 22:00 Tuesday - January 03, 2012
Xuan Thuy is an internationally important wintering area for migratory waterbirds and many rare species of fish, animal.
Xuan Thuy National Park is 150 km south-west of Hanoi in the coastal zone of the Red River Delta, belongs to Nam Dinh Province.  It take about  three and half hours by car.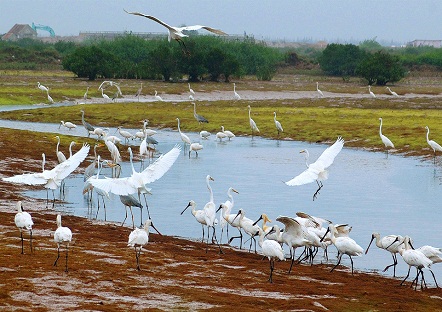 This national park comprises of three islands and mudflats, the most important habitat being the intertidal mudflats and natural mangroves. Being the home to many important species, Xuan Thuy National Park plays an important role in preserving ecological system and developing eco-tourism of the Red River Delta.
More than one quarter of the park's 12,000ha is covered with mangroves that support many aquatic species - including fish, crustaceans and molluscs. These species provide food and livelihoods for the poor, local people of the area.
Traveling to the national park, tourists in  Vietnam travel can find "Cá mòi co" (Clupanodon thrissa), a fish listed in Vietnam's Red Book as vulnerable and at risk of extinction. It is also recognized as a platform for migratory water birds, including the "Cò thìa" (Black-faced spoon-bill), and eight other listed endangered species.
More than 200 bird species have been recorded at Xuan Thuy. The site is the most important staging and wintering area for migratory waterbirds in the coastal zone of the Red River Delta. It regularly supports large numbers of commoner migratory waterbird species, including black-tailed godwit, spotted redshank and Eurasian curlew. Many rare species can also be found at Xuan Thuy, including the largest wintering population of Black-faced Spoonbill in Vietnam, with around 60 birds each winter in recent years. Other rare species that regularly occur at the site include Saunders's gull, Spotted greenshank, Spoon-billed sandpiper and Asian dowitcher
Tourists in  Vietnam travel can ask for assistance from the national park staff, who know the site well, and can advise on places to look for particular species. Hiring a guide from the park is recommended. Tourists in  Vietnam travel  can travel by foot to some places of interest; others can only be reached by boat at high tide.
Walking through the shrimp ponds on Con Ngan island, where the park headquarters is located, can be rewarding, especially at high tide when Black-faced Spoonbills and various gulls, ducks and waders come to roost and feed in the shrimp ponds.
At high tide, boats can be chartered to reach the offshore mudflats and sandy flats, where Spoon-billed Sandpiper can be found among large flocks of waders. Saunders's Gull can also be found here during December and January, as well as other gulls and ducks.
An alternative boat route involves visiting Con Xanh island, which is planted with Casuarina, which shelters migrating passerines, including pittas, and the outer edge of Con Ngan island, where waders, ducks and herons feed in the Tra river mouth.
Contemplating the lovely species of bird, fish, animal at Xuan Thuy National Park is an interesting experience for tourists in Vietnam travel.