Published: 21:03 Saturday - December 17, 2011
The Pu Mat National Park is located in the southwest of Nghe An Province, about 130 km from Vinh City.

The Western Nghe An Biosphere Reserve with Pu Mat National Park as its centre was recognized as a World Biosphere Reserve by UNESCO in September 2007. It is the sixth biosphere reserve in Vietnam recognized by UNESCO. With an area of 1,303,285m2 the reserve is the largest in Southeast Asia.
Pu Mat National Park is located in the middle of the Annamite, covers three districts - Anh Son, Con Cuong and Tuong Duong – with an area of over 91,000 hectares.
Pu Mat, home to diverse flora and fauna, has 896 flora species, 241 mammal species, 137 bird species, 25 reptiles and 15 amphibians. Many scientists also see Pu Mat as Vietnam's great museum of animal gene pool.
According to scientists' research Pu Mat National Park has four species of endemic animals in Indochina. They include the Sao la (Pseudoryx Nghetinhensis), Annamite striped rabbit (Nesolagus spp.nov.), white-cheeked gibbon (Hylobates leucogenys) and yellow-cheeked black gibbon (Hylobates gabriellae). There are also the giant Muntjac, Truong Son Muntjac, red-shanked douc, tigers, elephants, striped civets, Malaysian bears, tibetian bears, crested arguses and bulls. 
Coming to visit Pu Mat National Park, tourists will have an opportunity to take part in many fascinating activities: pleasure-boat on Giang River, cool bath, recreations at Kem Waterfall, trade village of brocades and enjoy the other things: bamboo-tube rice  and Lam dance…
Pu Mat National Park has 1,841m-high Pu Mat Mountain which is dubbed as the second Fansipan in Vietnam. Visitors to the park are very interested in the wildness of the primeval forests and beautiful landscapes. There is the Kem Waterfall, 150m high, which looks like a white silk band. Its water runs all year round, spreading a spray against the heat of the southwestern wind, relieving the typical scorching weather of the central region in summer. The Moc Spring with clear water is cool in summer and warm in winter, so it is very attractive to visitors.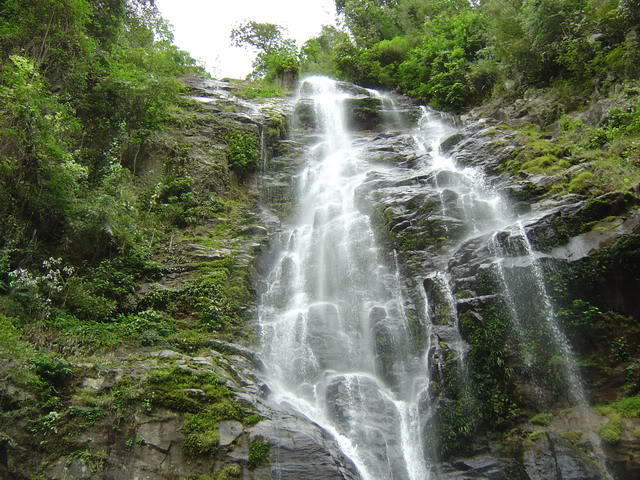 Coming to this area, visitors can take a boat ride upstream on the Giang River to discover the splendid and superb beauty of the mountains and forests. They can also walk in the forests of Sang le trees (Lagerstroemia tomentosa) to see century-old trees which are about 50m high with a large canopy of leaves, listen to birds singing and enjoy golden sunbeams through spaces between the leaves at sunrise or sunset.
After explore the jungle, visitor should visit to unique villages. These tours also allow visitors to speak to ethnic minorities and learn about their arts and culture, visit villages making brocades or tho cam and enjoy special food such as com lam (rice in bamboo cylinders).