Published: 15:49 Saturday - December 17, 2011
Tram Chim National Park is an eco-tourist area known as a "green island" with a typical natural landscape of the submerged region of Dong Thap Muoi.
Tram Chim is 40 km by road from Cao Lanh town in Dong Thap province. Within the national park, you can hire boats to reach good birding sites.
With a system of swamps, grass-plots and crossing canals, the 7,612 ha Tram Chim National Park has become an ideal habitat of more than 100 vertebrates, 40 species of fish, and 147 rare and precious species of birds, especially the red-head cranes. Hence, it is also an ideal place for scientists to research into the life of migratory birds. To date, at least 88 bird species have been recorded at Tram Chim National Park. Among them, the most well-known are the red-headed cranes, one of 15 endangered species of cranes in the world. Nearly 60 percent of the population of red-headed cranes resides in Tram Chim National Park.
Every year, thousands of tourists visit Tram Chim, of which about 30 percent are foreigners. Tourists will find a peaceful atmosphere and have a chance to watch flocks of cranes returning to live in this submerged area.
From January to May each year, when sky is clear, visitors will see from the horizon many black spot coming. It is crane flock returning after months of emigrating to evade flood. This is also the season, when tourists come to Tram Chim for seeing, photographing cranes in the dawn and sunset.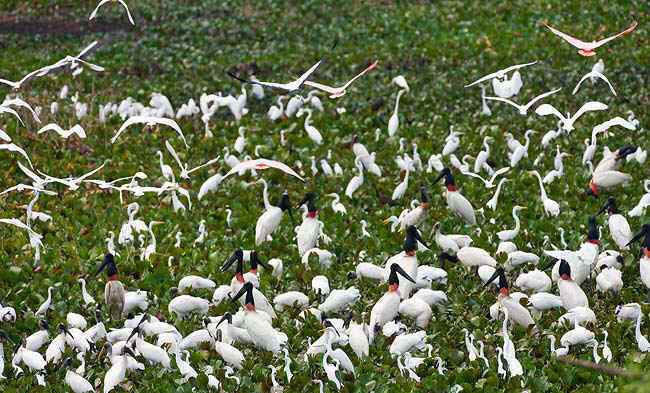 Tram Chim National Park, with natural history of collective ecology of geomorphology, hydrography and underwater creatures, is an ideal rendezvous place of tourists from all over the world.
A tourist said: What I remember most about the tour is the typical image of the Mekong Delta area in Vietnam; not a splendid beauty like sights in the northern and central provinces, but an area of peace and freedom. A boat glides on water filled with green cajuput, small white water-lilies, and pink lotuses as the gentle winds stir the cane-brake and birds wake from their sleep and fly up to the sky.
Come and enjoy it your way!