Published: 08:44 Saturday - August 04, 2012
Three nation parks of Phu Quoc, Tam Dao and Bach Ma are listed as the wildest places in Vietnam
1.Phu Quoc National Park
Phu Quoc National park covers more than 50% of the island so it is definitely worth considering a visit. Particularly if you would like to escape the heat of the daytime sun, a walk along a park trail or motorbike ride on one of roads in the north will give you a taste of this natural environment on Phu Quoc...Reading more here.
2.Bach Ma National Park
A French-era hill station, Bach Ma National Park reaches a peak of 1450m at Bach Ma mountain, only 18km from the coast. The cooler climate attracted the French, who started building villas here in 1930; by 1937 the number of holiday homes had reached 139 and it became known as the 'Dalat of central Vietnam'.
Bach Ma is the wettest place in Vietnam, with the heaviest of the rain falling in October and November. With the wet weather come plenty of leeches. Still, even these months are not out of the question for visiting. The best time to visit Bach Ma is from February to September, particularly between March and June, for what's likely to be the best weather...Reading more here.
3.Tam Dao National Park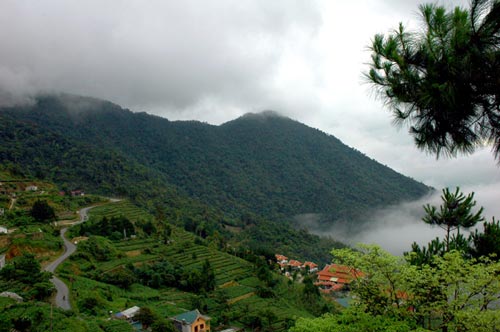 Tam Dao supports 21,982ha of natural forest and 1,351ha of plantation forest. The natural forest is of two main types: lowland evergreen forest and lower montane evergreen forest. Lowland evergreen forest is distributed at elevations between 700 and 800m, and is heavily degraded. The diversity of tree species in this forest type is high, with the Fabaceae, Dipterocarpaceae, Meliaceae, Burseraceae, Myrtaceae and Anacardiaceae families being well represented. Lower montane evergreen forest is distributed above 800m. Members of the Dipterocarpaceae family are almost entirely absent from this forest type, which is dominated by species in the Fagaceae, Lauraceae, Magnoliaceae, Aceraceae, Theaceae, Hamamelidaceae, Sapotaceae and Ericaceae families. Also in this forest type, a number of conifer species are present, such as Decussocarpus fleuryi...Reading more here.
HT
(Collected)