Published: 09:17 Thursday - October 03, 2013
While people are on holiday in discovery tours to forests or the sea, we come to fields for a weekend "harvest tour". The advantage of this "high quality natural" tour is budget friendly and helping you more knowledge about life of farmers - who grows rice, corn, sweet potatoes
Spreading yellow
Moving out of Vĩnh Long town about 20km, we turn to an asphalted road that lasts from Tân An Luông commune (Vũng Liêm) to remotes communes of Trà Ôn rural district. In the past, travelers could only reach this place by boats. There was only a boat trip to the rural district and another return one. If one missed the trip, he had no choices but staying here.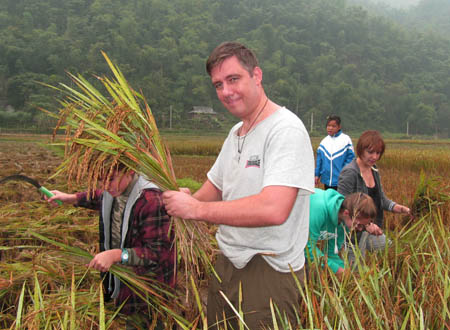 Russian likes harvesting in paddy fields
The farmers we meet tell stories of recent years as if they were very old. Now, everything has changed. Vehicles move smoothly on flat-asphalted roads. However, the landscape remains unchanged, that is, paddy fields are yellow for happy harvest and morning sunlight still runs and plays on eucalyptuses whose shades cover parts of village roads.
And the wind is immense and opens its arms across the fields. It makes golden straw threads scattered and gently carries the scent of ripe rice far away. Every routine tiredness and concern seems to disappear.
It is joyful and nervous to handle sandals stepping on wagging footbridges across two banks of canals. The bridges are soft and gentle under the legs of farmers carrying paddy but become headstrong to travelers. Luckily, the canals are muddy but shoal. Playful travelers can perch themselves on the footbridges and stretch their legs to splash water.
In my childhood, every time we came back from the field, my father often asked us to clean our feet. As soon as we finished crossing a footbridge, the mud sticking on our feet all fell behind. Time has passed so quickly, I have been away from my village for tens of years…
This season, many farmers burn thatch after it comes out from paddy plucking casks. Smoke spreads immensely on fields, which adds an extremely mysterious and romantic beauty to the countryside picture. We joyfully run with bare feet on fields full of thatch and taste scented paddy grain. We also "have a chance" to work in the fields, which makes our body perspire abundantly and our hands, legs spattered with mud. We enjoy it with big laughs and behave like a real farmer when "helping carry" a sheaf of yellow paddy to feel the meaning of the old saying, "a scented glutinous grain is the result of thousand bitter working hours".
The flavour of summer days
Little boy Tẻn, son of uncle Mười Son in Hựu Thành commune, jumps down to a muddy canal.
He holds a pole tied with a nylon piece to drive a nearly 200 duck flock to a harvested field to "eat remained paddy". On his summer holiday, being allowed to be "the leader of a duck flock" by his parents, the boy is so delighted. The first time he slept under the sky, which is called "the thousand star hotel" - a hut made of canvas located near a canal, he was a little… afraid of ghost but still like the stay.
After driving the duck flock, Tẻn calls us to "bail water out to catch fish" in a shoal irrigation ditch. He says farmers keep their fields dry for paddy harvest, which makes fish easy to be caught. We are all completely engrossed with a tiny basin, laugh more than bailing with muddy stuck faces.
The cunning anabases sneak in thin mud right after we dry up the ditch. My friend Trương speaks in big laughs, "this is much more interesting that fishing". "Our achievement" is some anabases which are enough to fry and roll with rice pancake. The Mười family "contributes" three velvet cichlids raised in their pond and some cinnamon vegetables picked in their garden. That is enough for "lunch meal".
"Entrusting" the loot to "a cook", the children in the hamlet gather to play folk games waiting for the meal. In the corner in front of the house near the canal, another group chooses to mould muddy soil and play tu na (soil firecrackers), smash the soil clots to make crackling sounds… All play until aunt Mười calls from a distance, "the meal is ready to eat!"
The meal is laid on an onlay in a garden with cool breezes. Looking at smoke flying above distant fields, listening to traditional singings from the radio carried along the harvestman, I feel so "relaxed"!
Harvest tour - why not?
Our entire group thinks about this question when "the tourist day" is considered "more than wonderful". We have enjoyed the pure air of the countryside, are able to come back to our childhood (of those having a rural homeland) to feel and find out more about the life and hardships of muddy stuck farmers, who contribute to "guaranteeing the national security" and help Vietnam become the second powerful countries of rice export in the world.
To those who have never visited Southwest Vietnam plain, going to fields is a way to find out more about the wet rice civilization and discover the way of eating, thinking as well as good things that nature presents local people as well as folk games as an intangible culture museum…
It will certainly be an interesting lesson to teenagers and even tourists both domestic and overseas. Maybe, from a "harvest tour", there will arise more concerns of Youth Union members, students, enterprises about the plain paddy, which is how to carry it further, make it more valuable to help farmer better their life.
And… finally, harvest tour is really fascinating, cheap, nourishing for both mind and spirit, and imbued with humanness.