Published: 15:43 Friday - September 27, 2013
Restaurants serving Vietnamese food fall into two broad categories: fluorescent-lit canteens with plastic chairs and minimal decoration, and dining rooms with tablecloths and incandescent lighting, often set in restored French villas with an Indochine aura. In years past it was hard to find great Vietnamese cuisine at upscale establishments. But lately, a new breed of restaurant—one that brings together tasteful interiors, smooth service, and exceptional cooking—is catering to the country's growing middle class.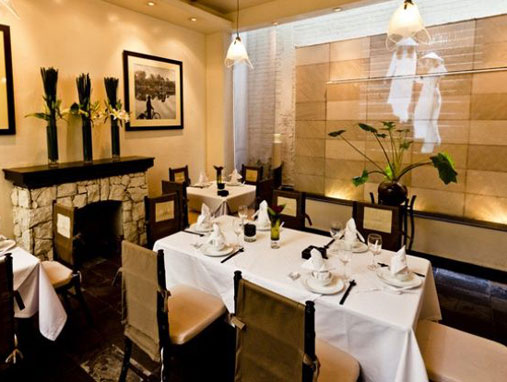 Wild Rice restaurant
Wild Rice, which opened last year in Hanoi, breaks the colonial-villa mold with its spare, modern interior, spotlighted rock gardens, and contemporary art. And the yogurt-marinated roast chicken and papaya salad with prawns are as authentic as any local kitchen's. In Ho Chi Minh City, similar culinary prowess can be found at the 10-month-old Nam Phan, housed in a gorgeous beige-and-sand-toned mansion. Tropical gardens and a cool Californian vibe make it popular with well-heeled saigonnais. When I dropped in at 9 p.m. on a Tuesday, I was asked whether I had a reservation. A reservation? Two years ago the word didn't exist here.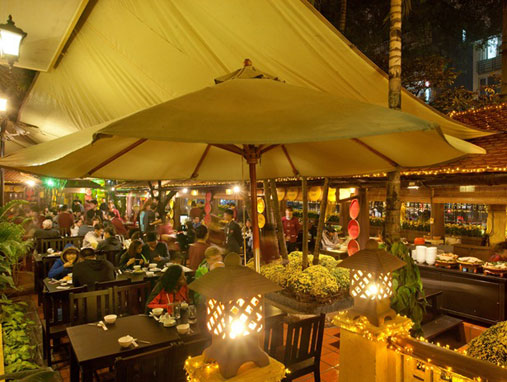 Quan Com Ngon restaurant
Quan Com Ngon opened last December and has quickly become H.C.M.C.'s top Vietnamese kitchen. Its menu goes far beyond the usual chicken-with-lemongrass, offering pickled pig's ear and stewed pork topped with duck eggs. The airy, four-level space is stunning: ocher and tomato-red walls, mulberry-paper lamps, garlands of jasmine. The young Vietnamese clientele—media types, models, ad execs—is just as attractive.
Quan Ta, tucked into one of H.C.M.C.'s crowded "food streets," is well off the tourist trail, but clay-tile floors, beamed ceilings, teak tables, and warm lighting lend it an air of refinient. The food is extraordinary: perfectly seasoned pumpkin blossoms fried in garlic and oil; smoky grilled eggplant that's so tender it can be cut with chopsticks.
Chic restaurants are popping up outside the cities as well. The newest arrival in Hoi An, Song Hoai, found a prime location in a two-story riverfront villa. Its kitchen does a marvelous job with Hoi An specialties such as mi quang (thick, al dente noodles in a basil-spiked broth with pork and baby prawns) and banh bao banh vat (a.k.a. "white rose," a delicious flower-shaped steamed dumpling).
At some point in your journey, though, you'll want to forgo celadon tableware and simply eat fantastic food. That's when you head for Quan Hué, the best restaurant in Hanoi. This family-run joint is all Formica tabletops and flimsy plastic chairs. It's the best place to try the comfort cuisine of Hué, particularly banh khoai (crisp rice-flour pancakes folded fajita-style around a variety of fillings: pork; shrimp; verbena, basil, and mint leaves; tangy star fruit) and cua xao mien (stir-fried vermicelli with crabmeat, ear mushrooms, scallions, and fragrant dill sprigs).
Of course, in both Ho Chi Minh and Hanoi, you can also find countless trattorias, tandoori joints, tapas bars, and teriyaki dens, along with hundreds of French bistros (whose cuisine hardly qualifies as foreign in Vietnam). A rice-weary expat could live for months on great international food—and some do. H.C.M.C.'s La Fourchette, catering to the homesick French since 1994, is the grand-père of Gallic haunts—it's even suffused with the rich aroma of butter-drenched escargots. Up market Italian cuisine draws a crowd at H.C.M.C.'s new hot spot Qucina, owned by the team behind the neighboring Q Bar. On a sexy, palm-fringed terrace in H.C.M.C., Club Camargue serves mesclun-and-goat cheese salads (the imported greens are safe to eat) and squid-filled ravioli in saffron cream sauce. At Saigon's new Designed, a hypermodern restaurant-showroom run by two Frenchmen—an architect and an engineer—an arty clientele dines on foie gras, graylag, and roulettes of rabbit. Up in Hanoi, the Press Club, an expat haunt, offers the capital's best wine list, strip steaks from Pennsylvania, Caesar salads, and some good (and laughably cheap) caviar from—no joke—China.
Even more impressive than the formal dining rooms are the cafés, patisseries, and sandwich shops that set to have been airlifted from Marseilles and San Francisco. Frenchman Stéphane Calvet has opened Maison Vanille, a bakery and salon de the that makes the prier croissants in Hanoi. In Hoi An, great pastries and rich Vietnamese coffee (with condensed milk, of course) are all the rage at the Hoi An Pâtisserie, on the river.
The Vietnamese have elevated the humble sandwich to an art form. Banh mi thit is the local take on a hero: pork sausage, pâté, ham, pickled carrots and radishes, and dried fish flakes on a warm baguette. The fast-food bakery chain Bon Banh Mi sells superb banh mi thit in locations around H.C.M.C. Two Western-style sandwiches shops—No Noodles in Hanoi and Sama Café in Ho Chi Minh—combine the best imported meats and cheeses, crustiest baguettes, freshest greens, and zestiest toppings to create the ultimate five-minute lunch.
Bohemian cafés are everywhere. Hanoi's Café Puku, run by three New Zealanders, has an East Village feel, with Beck playing on the stereo and a cappuccino machine hissing on the counter. At I-Box in Ho Chi Minh, the furnishings (velvet sofas, Kashmiri pillows, Javanese tables) are as eclectic as the playlist (Edith Piaf, bluegrass, and electro-funk) and the drinks (orange juice with milk; sour sop smoothies).
According to Peter Lindberg