Published: 09:14 Friday - September 20, 2013
Hanoi seems to be more romantic with the emerging hobby of cycling and the return of bicycles on the street. Bikes are back on the streets of the capital, but not because of the hard life in the past, as it was in the memories of many people, but a hobby.
Cycling hobby appeared in Hanoi about two years ago. At present, it has become a popular hobby of many Hanoians. Every morning or late afternoon, "landscapes" in the city such as the Hoan Kiem Lake, the West Lake, the road around the Ho Chi Minh Mausoleum and the Lenin Park become the destinations of cyclists.
Bikes are back on the streets of the capital, but not because of the hard life in the past, as it was in the memories of many people, but a hobby.
On the weekend, bicycle enthusiasts dress like professional cyclists and pedal in groups of 10-15 people. Many of them are women. Ms. Minh Anh, from Tay Ho district, a bank employee, says that she started cycling about a year ago. At the beginning, she just rented a bike for fun on the weekend. After a few months, she was addicted to cycling. She decided to buy a bike.
Now, she pedals around the West Lake every morning, from 5.30 to 7 am, then returns home for a shower and breakfast before going to the office. "On rainy or too cold days I had to stay at home but I missed the feeling of cycling. She often rides along the street alone or with her friends or family members.

Unlike Ms. An, many bike enthusiasts participate in clubs or groups to exchange and share the passion. The sports bike clubs like Thang Long, Hanoi Veterans' Club, Hanoi Bicycle Club, Hanoi Past and Present Cycling Club, Tour de Five, Hanoi Mountain Bike club, Tour the Fun Club and others recruit members of all ages.

Along with the boom of cycling is the rise of bike rental services. Bicycle rental shops mushroom around the West Lake, Thanh Nien Road, Hoang Hoa Tham Street. They have a lot of clients, especially on weekends. Rent is from VND80,000 to VND100,000/half of a day and VND150.000 - VND200.000/whole day (higher rent for expensive bikes.) The new bikers can find a satisfactory bike at one of these shops. Accessories such as lights, helmet, etc. are also lent by bike rental shops.

When one is "addicted" to this hobby, he will not hesitate to buy for himself a bike. Men often "race" to buy super bikes that are priced several hundreds to several thousands of USD. They also spend a lot of money to buy accessories and upgrade their "iron horses". Some men buy accessories to assembly their own bikes. Women are less picky than men. They only need the bikes that look stylish and strong. A bike shop owner on Ba Trieu Street says that more and more women come to the shop to buy bikes and they often choose bikes from VND2 to VND4 million ($100-200).

Both doing exercise and reducing the life rhythm with bikes

Bike enthusiasts have many different reasons to come and stick with this hobby. The first reason is probably to exercise. For women, the most visible benefit of cycling is to keep them in shape. 

Ms. Yen from Thanh Xuan District, says: "After involving in cycling for four months, I lost 3 kg, my body is firmer, my skin is more ruddy. My colleagues asked me about the secret! I feel much better and healthier since I'm pedaling."

Not only improving health, cycling is an exciting activity because cyclists can share the experience with their friends and families. 

For many, cycling is also a slow lifestyle. Experiencing the Hanoi streets or traveling by bike and relaxing themselves in nature are also a way to feel the meaning and the beauty of life.

For some people, cycling is a useful way to protect the environment. A member of the WCV Club - a bike association with more than 60 group members says: "Every Tuesday, Thursday and Saturday evening, we group at the Hang Dau tower then pedal around Hanoi to call for people to protect the environment. Each morning of the last day of the month, we ride to the neighboring provinces to mobilize people to use bikes to cut down motorcycle emissions." 

Other groups such as Lake Bike Club, Hanoi Veterans' Club and C4E Club are also positive factors in propagating the people to not throw waste to the road and to clean parks by their offline trips.
Coming to cycling for different reasons, different purposes, but the bike lovers in Hanoi have created a movement, a new beauty for the capital city.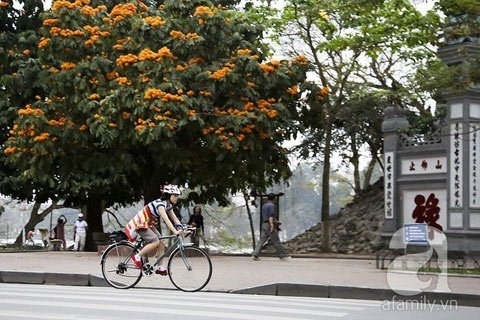 Hoan Kiem Lake is a favorite spot of bike enthusiasts.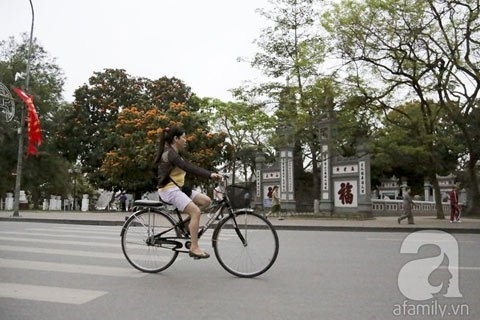 Alone one the street.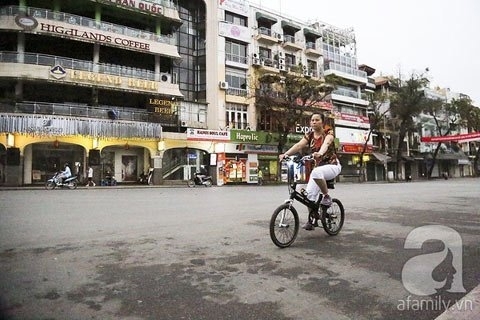 Enjoying the peaceful atmosphere of the new day.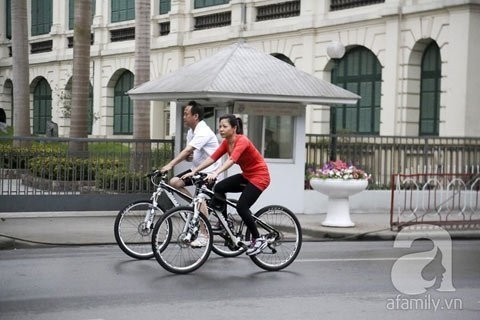 The area around the West Lake is also the favorite site for biking.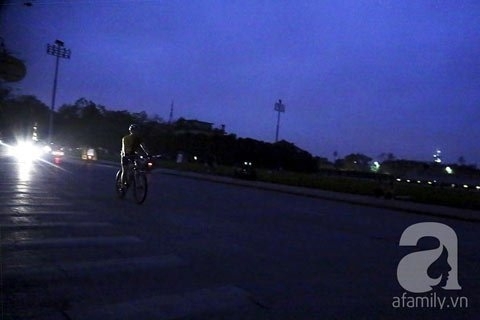 Although it is dark ...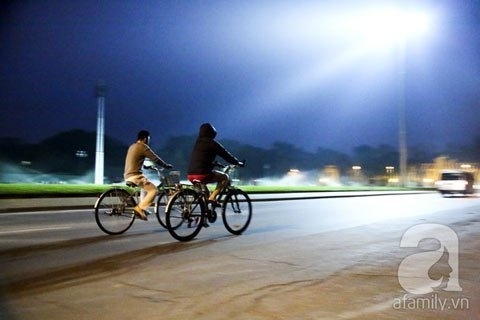 ... couriers still ride.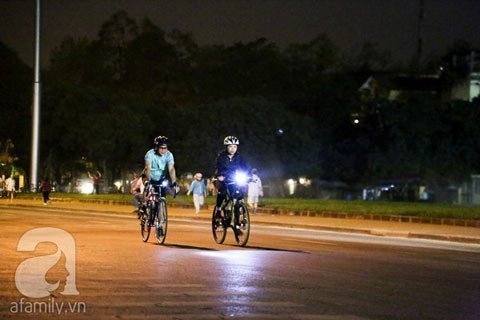 ... for cycling at night.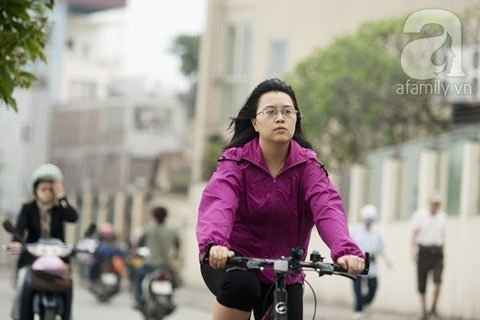 Cycling is an attractive sport to women...
.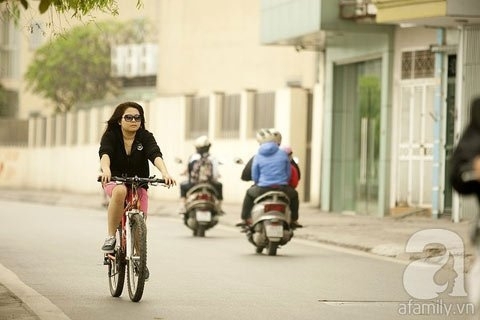 .. from young girls ...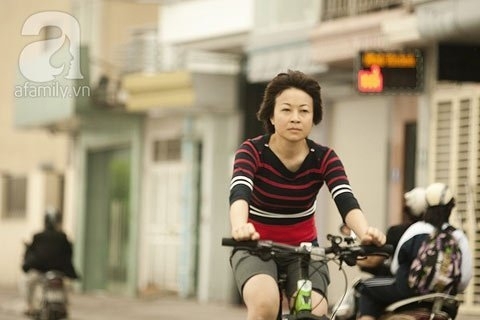 ... to middle-aged women ...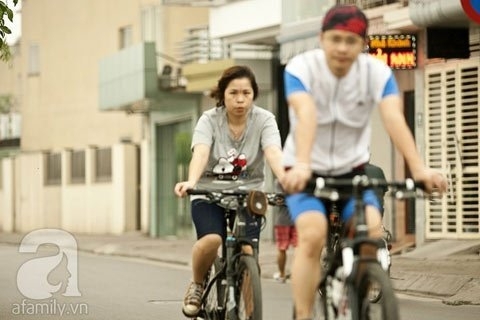 ... all because of health and beauty.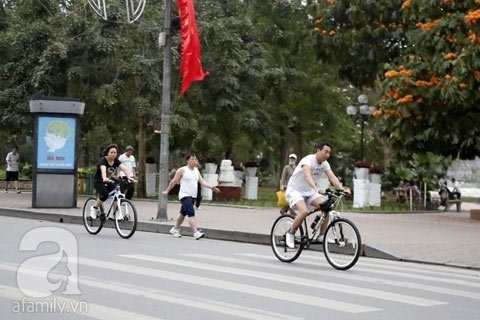 Riding with club members…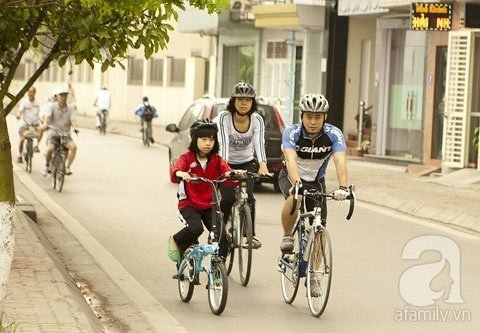 ... with the family ...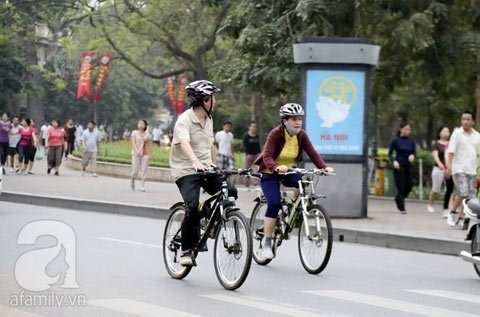 ... in pair...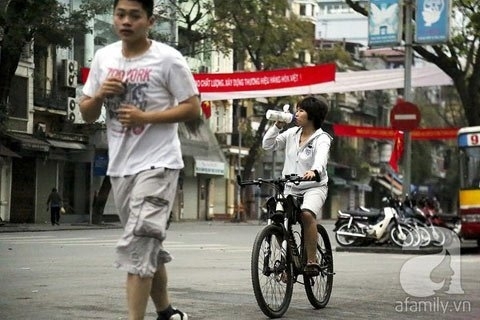 ... or alone are all interesting.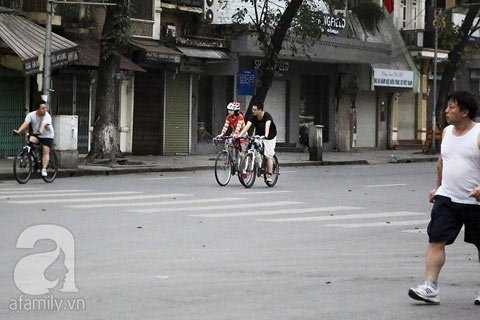 Cycling is a way of living slowly ...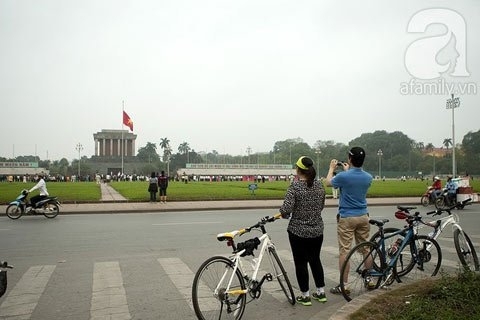 ... and enjoying life
Images by afamily.vn