Published: 09:12 Monday - October 21, 2013
Images of old Ha Noi have drawn the old Dao Hung in. The hustle and bustle outside the Exhibition Hall on Hang Bai Street now seem a world away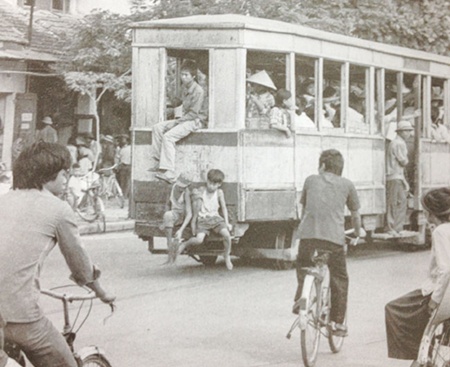 Streetcar named desire:
A photo depicts a tramcar on Hang Bong Street.
The hall is hosting an on-going exhibition John Ramsden and Ha Noi: Spirit of Place, featuring hundreds of photos taken by John Ramsden, a former British diplomat posted in Viet Nam in the early 1980s.
The old man lingers in front of a photo of two old women tugging a tricycle loaded with logs. He takes off his glasses, deep in thought, old memories flooding back of the Ha Noi that was.
"Many of the images here portray hardworking Vietnamese women, particularly Hanoian women of that time," said Hung, deputy editor-in-chief of Xua&Nay (Then&Now) magazine.
"I feel sorry for the women who had to carry such immense burdens. They did everything: pull tricycles, carry heavy rice bags on their shoulders, queue for water at night time and for groceries."
As one of the first people contacted by Ramsden, he was asked for help to write caption for the photos. The images bring back a lot of memories.
"I had been to all of these places. The images remind me of a Ha Noi in the past when we worked extremely hard but led very simple and intimate lives."
This is the first time the photos taken by Ramsden and illustrating the capital city in the period prior to doi moi (renewal), have been made available for city dwellers.
The Ha Noi of 30 years ago appears vividly. At a corner of an old Ha Noi street (now Cau Go and Nguyen Huu Huan streets) everyone is rushing to make a living; women bring goods into the city centre, men cycle their way to work.
Another image features a very common sight in the city of that period: a bearded old man with snow-white hair and a pump near the corner between Hang Bac and Hang Be streets.
"It's a fascinating snapshot of an era and activities prior to doi moi that no longer exist. I spoke to a Vietnamese friend who told me that photography was a luxury in those days, so it's really interesting to see the images," said Claire Boobbyer, author of the Footprint Viet Nam guide.
"It's obvious from these images there were no motorbikes, no cars. Streets seem uncluttered in contrast to Ha Noi today - all streets are cluttered with people, cars, motorbikes, food stalls, shops, clothing, everything. All the paraphernalia of Ha Noi is on the street."
"I'd like to see it prior to Doi Moi (Renovation), I'd like to see a country like that but I also like Ha Noi now."
Love for Ha Noi
A diplomat with a life-long interest in photography and the visual arts, Ramsden was sent to Ha Noi as Deputy Head of Mission at the British Embassy from 1980-83.
While in Viet Nam he enjoyed taking photographs while wandering the streets of Ha Noi and during weekend trips to the countryside.
In the eyes of the British diplomat then, Ha Noi had just emerged from a long period of war and had not yet had time to undergo a metamorphosis: the austerity, distress and disorder of that time still left deep marks on the capital and on its way of life.
"In the west, 30 years ago people only heard about the war, nobody knew that Ha Noi is [almost] 1,000 years old, nobody knew about the temples, heritage here, all about the daily culture in the north Viet Nam," Ramsden said.
"It's really interesting for me to go and explore what it's like."
In three years, the photos John took in his free time accumulated to an important historical archive containing over 1,800 photos of the capital city, part of which were exhibited in London and Copenhagen.
Ramsden had not been back to Viet Nam until this year. He found the capital city had retained its charm and took the opportunity to learn about modern Ha Noi.
"Ha Noi has changed a lot. I'm telling my friends that 30 years ago Ha Noi was such a quiet city. I was sitting by Hoan Kiem Lake on Saturday evening and heard only a few bicycles going by."
"I'm really happy to see so much interest and I'm moved by such interest. For old people it brings back strong memories, and I think for young people it's difficult to visualise what the life is really like back then, so I found it wonderful reactions."
Ramsden's busy diplomatic career provided him little time to look at the photos he had taken, which he was able to do so after he left his career.
However, he feels "it's a good moment" as the exhibition also marks the 40th anniversary of diplomatic relationship between Viet Nam and the UK and that "maybe with this 30 years, people see the real difference," as Ramsden said at the opening ceremony on Friday.
John Ramsden and Ha Noi: Spirit of Place runs until Saturday at 29 Hang Bai Street.