Published: 17:12 Monday - September 23, 2013
The United States may have invented the drive-through restaurant back in the 1930s, but nowhere is it as diversified as Vietnam.
Businesses have adapted their sales tactics to appeal to the zippy go-anywhere Vespas, Hondas, Yamahas (and increasingly cheaper Chinese brands) that are making consumers ever more mobile.
From banh mi bread rolls and drive-by karaoke to rice paddy snacks served direct from the field, savvy vendors recognize the advantages of catering to the endless river of rolling consumers.
For anyone who's hungry and hates parking -- Vietnam by motorbike is bliss.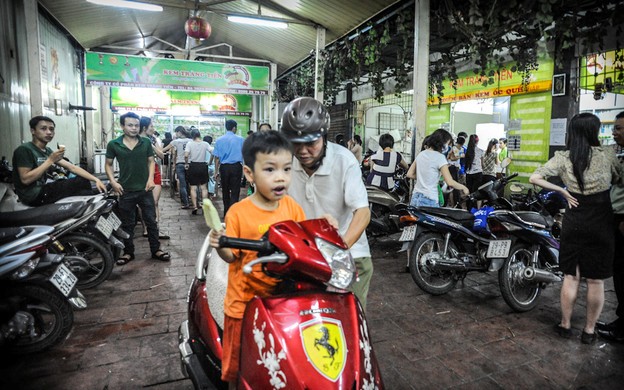 Youngsters soon adapt to motorbike culture in Vietnam. In the shaded arcade of Hanoi's iconic Kem Trang Tien ice creamery at 35 Trang Tien St., a father introduces his son to the pleasures of ice cream on a motor bike.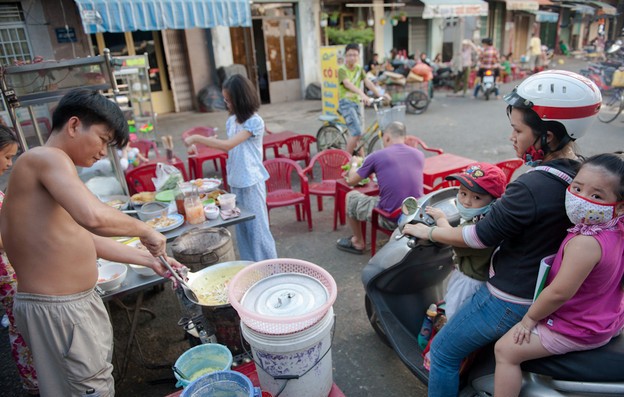 Great street food is everywhere in Vietnam and competition for customers is intense. A drive-through bay amongst the plastic tables and chairs allows this prawn pancake maker in Ho Chi Minh City's Tan Binh district to capture the lucrative mum-with-kids-on-bike market.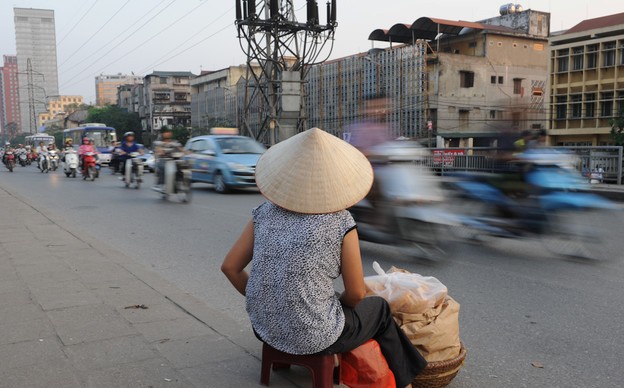 From a seller's point of view, fast traffic does not offer the best stream to fish from. But necessities such as bread do well on busy Tran Quang Khai -- a major Hanoi artery -- allowing commuters to shop without entering the melee of the Old Quarter.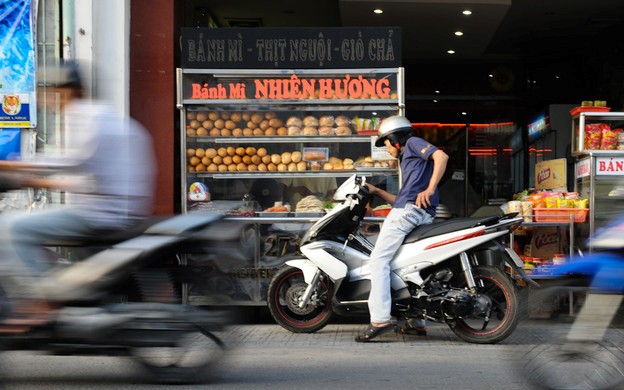 Few Vietnamese commuters eat breakfast at home. Banh mi (Vietnamese baguettes) -- packed with pork, pate and salad, or served up with an egg drenched in tangy chili sauce -- are the bait that catches the breakfast crowd. A curbside counter is key.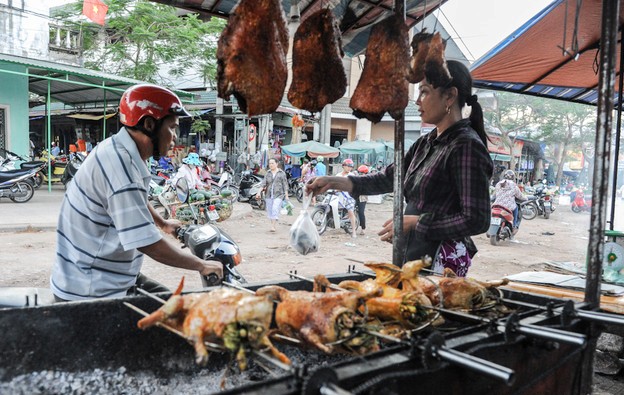 Goose stuffed with lemon grass from Dong Hoi's riverside market in Central Vietnam's Quang Binh province is a gourmet take-home meal.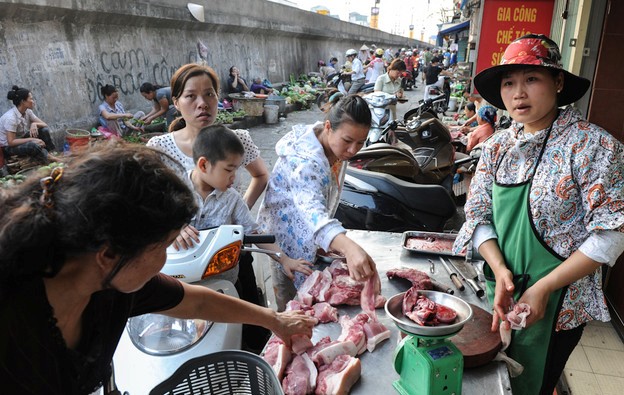 Who wants to haul groceries to a carpark in a mall when you can drive your motorbike right up to the meat counter? In an open-air street market near Hanoi's Old Quarter, a woman checks out the meat-to-fat ratio of a freshly butchered pig, from the cushioned comfort of a motorbike saddle.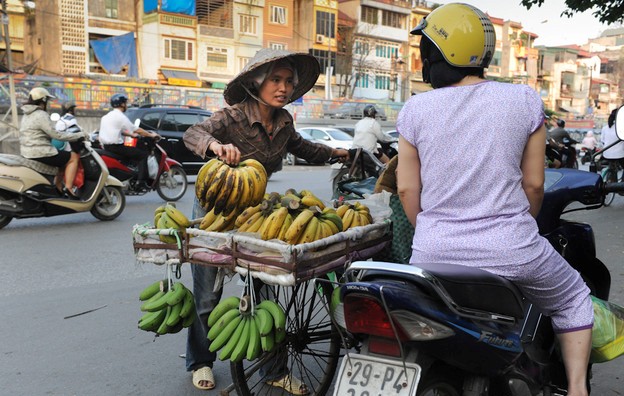 Many vendors mount up themselves, diving into the stream of potential customers on Hanoi's main roads. Cheap bananas draw the attention of a motorcyclist who stops to purchase a bunch without even pulling off to the side. Traffic adjusts without anxiety -- society respecting that vendors need to earn a living and the convenience offered by mobile vending.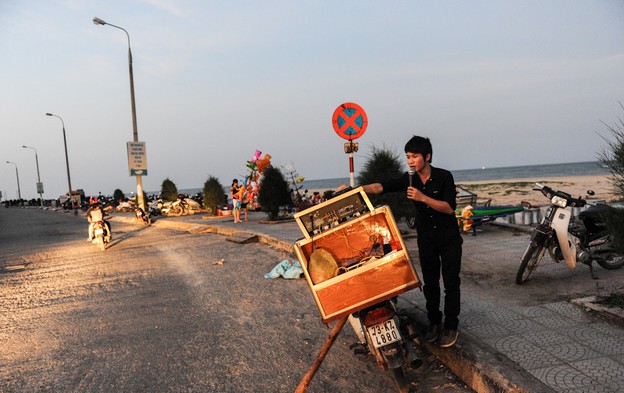 Don't have time to stop for an evening bia-hoi with barbeque squid but still want to hear a rendition of your favourite pop song? Mobile karaoke singers on Dong Hoi's riverfront roll from venue to venue to sing for the boozy crowds. Others simply park themselves roadside, taking drive-through karaoke requests.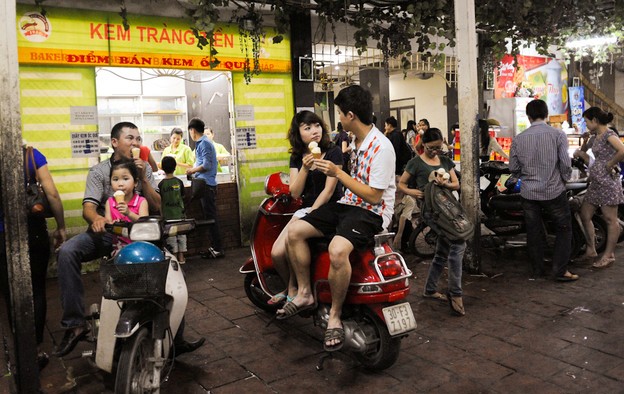 For couples, families, and lone ice cream fans, an ice cream at Kem Trang Tien has become an institution. Parking attendants make you turn off your motor but let you push your motor bike into the shady arcade where the bike saddle serves as a comfortable padded bench.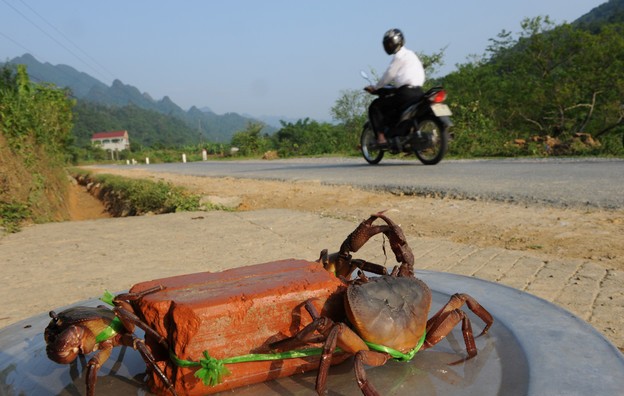 Up country in the scenic Ha Giang Province in Vietnam's far northeast, farmers tempt passing motorists with exotic offerings such as paddy crabs -- these ones are leashed to a brick on a plate of water, to keep them from returning to the paddy.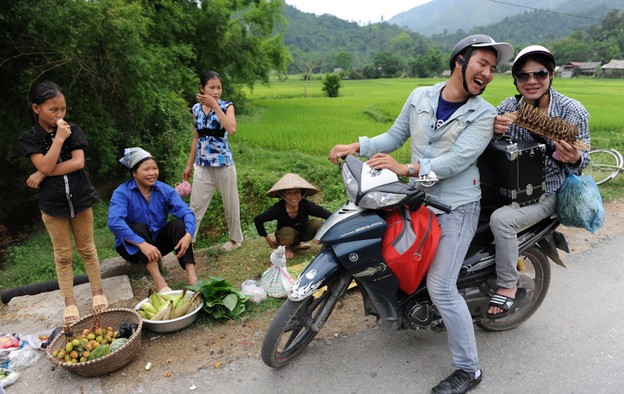 Motorcycle touring is the transport of choice in the limestone karst wonderland of the newly opening Dongvan region in northeastern Vietnam. Farmers are quick to service this trend, offering snacks from the fields such as frogs barbecued on bamboo racks.
Source: travel.cnn.com