Published: 10:43 Saturday - September 28, 2013
Sapa is famous for so-called "carried-under-arm" pigs – a meal of freely-fed local pigs which will be caught, then carried under arms to bring to the market mall for sales whenever Sapa people need money.
Self feeding on steep slopes and struggling with the Sapa cold weather throughout the whole year has made this type of pig's meat more shriveled. A mature "carried-under-arm" pig only weighs less than ten kilograms (so that we are able to carry them under arms).
Pigs after being cleaned and embalmed will be then grilled or roasted as the whole. Its meat is very thin: the first layer is a crisp skin then a soft sweet layer of pulp, just 2 centimeters thick; and in the deepest layer is bones, usually small in appearance and soft so that we can eat all of them if not the shinbones. When enjoying "carried-under-arm" pigs together with sipping a cup of Sapa wild cat apple wine, over night is not impossible.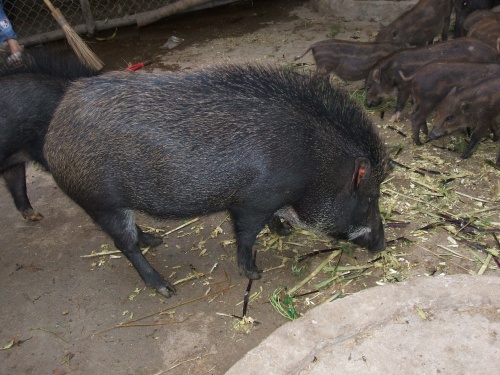 Genuine breed pigs.
This kind of pigs is released into the forest when they are young to find foods.  
Eating a "carried-under-arm" pig is like eating wild animals without violation because breeding of highland people like: Dao, Thai, Mong..This is a featured traditional pig which needn't breeding of local highland people.
If you want to have a flock of "carried-under-arm" pigs, you only need to buy a couple of which are male one and female one and then you free them into the forest near your house. This couple will go along together, make their nest in the forest and make their living by themselves. In the breeding season, they copulate and reproduce a flock of 10 young pigs which are only bigger than our big toes.
This kind of pigs has the great robustness; they can live only by finding bulbs and roots of forest trees and chewing leaves. New-laid pigs can go and find for foods by themselves. They only follow their parents some days and then separate from their parents. It is special that they can find for foods in the forest, but they don't go away and only hang about a certain place in the forest. Some families create the living habit for them that they will come back to their nests made by their hosts right in the space under or after the house.
Some flocks of pigs "hiding" in the forest remark their territory. To observe whether their flocks of pigs are mature or not, they only go to the forest and find out their nests in the evening. These pigs' nests are made from dry branches or leaves. Catching them is very easy because they only need to take a featured call seduce and catch them. Because they aren't bred by human, these pigs grow very slowly. Each year, they only increase 10 kilograms for maximum and they nearly don't increase their weighs. By eating grass and leaves, they slowly grow but their meats are very delicious and good. There are many ways of processing "carried-under-arm" pigs like: steaming, boiling, baking, fumigating, stir-frying and so on.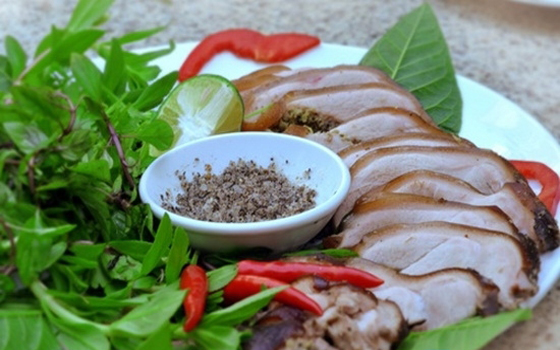 "A dish processed from "forest pigs"
Nowadays, there have been so many restaurants with the specialty of "carried under arm" pigs. Tourists from the plains have to pass so much difficulty getting there to taste "artificial forest meat" and use their bests to compliment this kind of meat. A local owner said that his restaurant servers this kind of pig for hundreds of tourists who come here. In his house, there are hundreds of pigs available.
To meet the customers' demands, he has a team going to remote areas to find for supply of "carried under arm" pigs. Besides, he also find for this kind of pig to sell for many places. Some years ago, when Lai Chau town wasn't founded, restaurants of specialties are little, which is in the contrast of that nowadays. Restaurants of 'carried under arm" pigs have been in many plains. In Lai Chau, "carried under the aim" pig is one of the dishes in weddings, parties and so on.
If visiting Sapa, please don't forget to order a dish of this "carried-under-arm" pig or else you will regret some day!