Published: 17:54 Tuesday - March 26, 2013
About 80km from Hanoi city to the northwest in Tam Dao National Park, Tay Thien is a historical relic-the unique culture among the majestic mountains in Dai Dinh commune, Tam Dao district, Vinh Phuc province
Tay Thien has become a famous scenic landscape which is well known as a relic architectural complex, also as a paradise with wonderful sight and charming natural scenery, attracting many tourists coming to relax and enjoy. Moreover, Tay Thien is also the research place for ethnologists, culture researchers, and tropical forest researchers…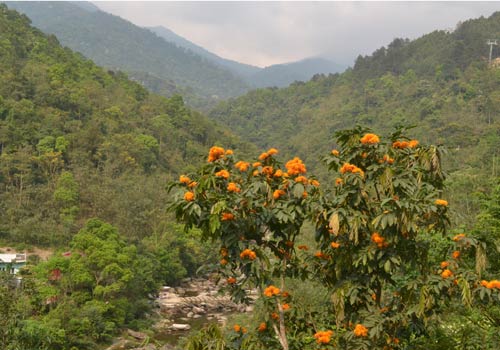 Certainly, it makes no surprise that visitors will fell immerse with majestic nature when coming here.  Tay Thien has great appeal for tourists and researchers when Tay Thien  Tay Thien forest trees have lived for a thousand years old. The fauna of Tay Thien is quite rich, with 4 classes, 26 sets, 86 families and 281 species, including the rare animals such as turtles golden pheasant, white pheasants, langur nosed monkeys, Tam Dao fish  ... toad diversity with biological systems temples and valuable archaeological culture that Tay  Thien is in the right West direction of the old Nam Viet capital city in which worships the Mother of the country Lang Thi Tieu of Hung King period.

As you know, Tay Thien is in the right West of the old Nam Viet Capital city. According to the legend, Lang Thi Tieu brought 3,000 troops to 3-way crossroad to fight with the invaders to rescue the capital city of Van Lang.. After the victory, she refused to receive titles, perquisite from the court and returned to the marvelous mountain, which is Tay Thien nowadays. When she died, people were honoring her as the Mother of the country - Tay Thien and established many temples. Currently Tay Thien scenic spots also include Tay Thien temple and Tay Thien pagoda.

Tay Thien spot is harmonious combination between nature and creativeness of human being. Silver waterfall pours down like silver pours, together with the wonderful scenery of Lotus pond and Pineapple pond. To the mountain side is the Tay Thien pagoda with blue bamboo and plum tree. There are so many stones in strange shapes along the way from the left of Giai Oan slot up to Sen Pond. ..

Perhaps, thank to the link between the nature and the belief that is easy for visitors to feel comfortable and peaceful in their soul when coming to Tay Thien. Sitting in the cabin of cable car, visitors will have the chance to enjoy Silver waterfall pouring down the mountain foot and record every moment  of the sunshine being slowly down from a height of 200 meters of along the cable route to explore the strange plants and majestic nature.