Published: 22:20 Wednesday - February 20, 2013
Located in Tam Nong district of the Mekong Delta province of Dong Thap, Tram Chim National Park boasts a rich biodiversity that turned it into the world's 2000th Ramsar site in 2012.
Established in 1985, the 7,313-hectare Tram Chim became a national park in 1998 and then the fourth Ramsar site in Vietnam. The park's plentiful green vegetation is inhabited by more than 130 species of higher plants featuring six main types of floristic societies.

Water life in the park is also bustling seeing the presence of over 150 species offreshwater fish, with some listed in Vietnam's Red Book like clown feather-back fish, common archerfish and giant barbs, nearly 180 algae species, 26 epifauna species, 350 species of plankton and 34 species of amphibian.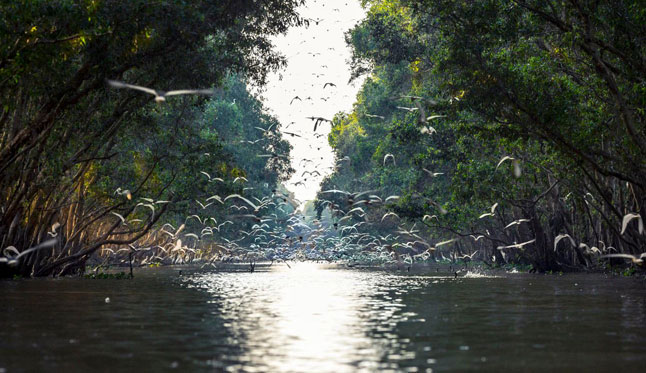 Tram Chim is home to 198 bird species, including 16 rare ones such as red-headed cranes, black-faced spoonbills, black eagles, great-billed herons and spotted-billed pelicans. It was recognised as an important bird sanctuary in Vietnam. The number of fauna and aquatic species in Tram Chim National Park surpass those in other wetland reserves in the region, like Tra Su cajeput forest reserve in An Giang province and U Minh Ha National Park in Ca Mau province.

The diversity is largely attributable to the physical feature of the park which lies in the low-lying area of Dong Thap Muoi (Plain of Reeds) and benefits vastly from the flood cycle generated by the Mekong River. In particular, a well-operating water drainage system has also helped direct a great amount of aquatic species on the Mekong River to reside in the park annually and add to its biodiversity.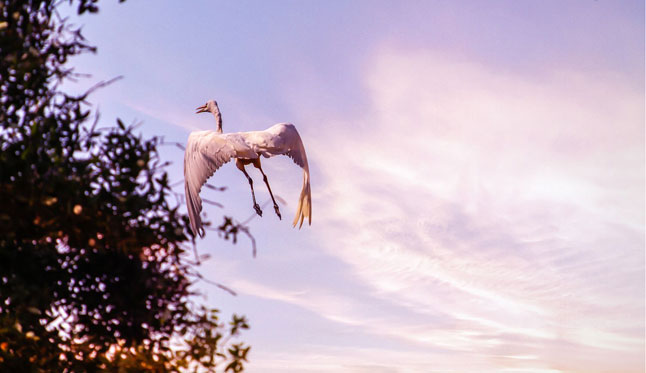 Providing a perfect habitat for hundreds of flora and fauna species, the Tram Chim National Park also offers an ideal destination for ecotourism in Dong Thap Muoi. Forming part of the part, the 3,000 hectare forest of cajeput, aged up to 18 years old, is often adorned with tens of thousand of white storks during the flood season. It provides a dozen-hectare ground for various kinds of birds to play and build cosy nests all year round.

Tours by water taxis to the park are now available for tourists, who are assured to be stunned by a spectacular view of a "green oasis" decorated by flowers and enlivened by bird singing and dances during the flood season. In the dry season, canoes bring tourists to travel along small canals from which they can spot 1.5-metre-tall cranes, herons with wings of over one metre and long-necked darters seeking food.

A road system has been invested by local authorities to enable tourists to explore the site without harming its ecosystem.To preserve the park, protective measures have been carried out. A 53-kilometre dyke was built to prevent the park from being flooded entirely during the rainy season and regulate its water level during the dry season.

A number of projects jointly developed by local authorities and state and international agencies have been launched to reduce local residents' dependenceon the park and raise their awareness of protecting its environment.

Local residents have been encouraged to get involved in managing natural resources offered by the park and utilising them in a sustainable manner. These activities have helped Tram Chim National Park live up to its fame as the world's Ramsar site and contributed to the sustainable development of the Mekong Delta.
Source: VNA/ Photo: VnExpress