Published: 23:33 Wednesday - February 27, 2013
Ban Gioc Waterfall is now an attractive beauty spot for national and international visitors. Travelling some 272 km from Hanoi, you will reach the splendid Waterfalls.
Feasting our eyes on this beautiful spot it was tough to listen to background information by the tour guide. Ban Gioc Waterfall on the Quy Xuan River is situated in Dam Thuy Commune, Trung Khanh District, near the border with China.

The waterfall falls are thirty meters high, separated into three falls by rocks and trees, and the thundering effect of the water hitting the cliffs can be heard some kilometers away.

Surrounded by picturesque karst peaks, the water rushes down a three-tiered cliff and is separated into three falls by rocks and trees. The guide said that the scenery changes according to the seasons.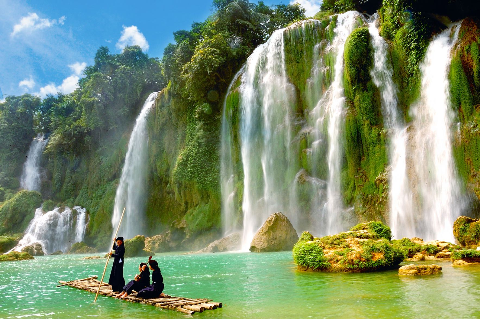 In spring, the flame-red blossoms are in full bloom, whereas it turns golden-yellow in autumn, its waters become stronger and more violent in summer and during winter the fall's clear water drops tenderly.

The waterfalls are divided into two parts, one for the Chinese and the other for the Vietnamese side.

Water from Quy Xuan River falling down on the stone creates water droplets columns that can be seen from a distance. The temperature near the waterfall is remarkably cool, due to the water mist in the air. At the foot of the waterfall is a large river, as calm as glass, surrounded by many precious kinds of flowers. Ban Gioc Fall is famous for a famous fish named "tram huong". In the early 1920s, French people started building cottages on the river banks. They would come here to relax, fish for "tram huong", and hunt deer.
Cinet